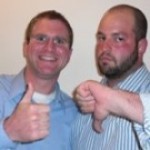 Who: Jimmy Fallon, interviewed by Brian Williams
What:  "Late Night with Jimmy Fallon"
Where: Paley Center for Media
When: May 27, 2010
Thumbs: Up
Jimmy Fallon and Brian Williams engaged in a sort of role reversal. For starters, Fallon set the light tone for the evening by pretending to interview Williams about his life and accomplishments. From there, the conversation went in perhaps an unexpected direction as it was Fallon who provided the news, information and bits of trivia throughout the night. Williams responded in turn with a slew of laugh-out-loud punchlines. What came across was not a journalist and comedian brought together for one night; rather, the discussion conveyed the feel of two friends enjoying each other's company.
For the two of them, that had the added benefit of being true. It turns out that Williams is a "loyal" and devoted fan of Fallon's show (he mentioned specifics from recent episodes that proved he is an avid watcher). Fallon, however, couldn't return the same sentiment to his fellow NBC host. He relayed a story that recently his staff wished to bring Williams on as a late replacement guest, and Williams responded that if Fallon had been watching his show he'd know that the "Nightly News" host was stationed in Haiti that week. But there are obviously no hard feelings between the two who share more than their commitment to their nightly programs.
Both of them also crave more knowledge about the history of television, especially at NBC. They wish to honor those who came before them – and who continue to influence them. Fallon points to icons like Milton Berle, Jack Paar and Johnny Carson who all at one point used studio 6B at 30 Rock before Fallon rose to the throne. And Williams discussed how Frank Oz returned last week to tape a segment covering the dressing room closet where Oz and Jim Henson put together the prototypes for the Muppets…on the closet's pipes. Soon it'll become part of the NBC studio tour, for all to see.
While not educating the audience, the pair was yukking it up in ways only they can. Fallon danced through the aisles, re-positioned his chair for the sake of a joke, did celebrity voice impressions, among other overall wackiness. Williams aptly played the straight man, picking his spots carefully and making the crowd laugh with his body movements and positioning. At one point, the way Williams simply moved his chin in response to some of Fallon's antics made us laugh.
With the way Williams spoke about and related to Fallon, you'd think he was a natural late-night host. In fact, it took him a while to find his stride (he admits he's still trying to get the show where he wants it to be). At the beginning, he used to watch his competitors shows and take notes about the jokes they'd make. He wanted to see where he stood in comparison. But he says that over time he stopped watching the other hosts out of fear he'd accidentally borrow some of their material. He wants to assure that he keeps his style of comedy completely unique.
What They Said
"He will entertain you until you give up or give in."
– Brian Williams acknowledges Fallon's voracious pursuit of laughter and approval

"The internet now can be more harsh and tell you about what they're talking about and what they're not."
– Jimmy Fallon think it's easier today to get a read on whether the public wants an "SNL" sketch to recur

"My principal was Nostradamus."
– Jimmy Fallon said his eighth grade yearbook predicted that he'd eventually unseat David Letterman as host of "Late Night"

"It's painful. It just creeps by when you're bombing. Time goes by so slowly."
– Jimmy Fallon believes that when a joke misses its target, it's a reflection of his inability to make funny material work

"I just want people who don't get to see different kinds of people to see other people."
– Jimmy Fallon recruits so many audience members to appear in sketches – to show them off to America. He also loves the word "people"

What We Thought
Fallon mentioned that he was on "SNL" for six seasons before branching out and trying to make a career outside of the show. He said that Chevy Chase was a cast member for just one season and went on to have a huge career. We think that is more a testament to Chase than it is a black mark on Fallon's record.
He says that the crew likes to film – at night, after work – live-action parody sketches that cause him to sometimes wonder why they're doing it – since they're a talk show. We commend Fallon and his staff for working so hard to make a funny idea fly, even to the point where they spend three-day shoots getting everything just right.
PANEL RULES!
Some audience behavior seems to repeat itself panel after panel. We'll be updating a running list of "PANEL RULES!" that will help ensure that you are not the dweeb of the Panel Nerds.
Panel Nerds don't like…Right-wing Nuts
Whomever is responsible for the "liberal media" that so badly bothers American conservatives, I can assure you Jimmy Fallon is not involved in making sure that the GOP gets the short end of the stick on TV. So there's really no reason to interrupt a calm and classy event by shouting at the host for not knocking the current administration enough on his show. Williams actually handled the question brilliantly, re-framing it to be more generally about whether Fallon gets political at all (he does). In the end, Fallon gave some pretty sound advice to his heckler: Watch my show before you criticize me.
Have a tip we should know? tips@mediaite.com