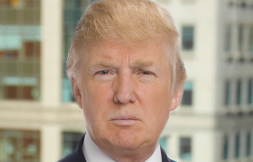 Who: Donald Trump, Mark Burnett, Ivanka Trump, Donald Trump, Jr., moderated by Erin Burnett
What: "The Apprentice"
Where: The Paley Center for Media
When: September 13, 2010
Thumbs: Way up
As "The Apprentice" begins its 10th season on Thursday night, it's embarking on new territory: the tough economy. Since the show's past few seasons have been "celebrity" versions, the show hasn't had the same focus on ambitious, hardworking professionals trying to push forward their careers. At times like these, however, that's even more critical especially with so few opportunities available to the business-oriented. So Donald Trump and producer Mark Burnett are returning the show to its roots in hopes of helping one person turn his or her career around during hard times.
Messages about overcoming adversity, Trump said, are programmed into this season's makeup. He used the words "sad" and "inspiring" when outlining what to expect. Trump speculates that this could be the best season the show's ever done, if only because it resonates more with Americans than previous seasons have. There's a difference between seeing someone fight for a job they need to support a family than one they have always hoped for. Burnett says that the "fighting back mentality" that we'll see on this season's "Apprentice" is matched by the intensity that Trump himself relies on in his business approach.
To further help the candidates get back on their feet, "The Apprentice" this year will pair up departing contestants with well-known CEOs to provide counsel and resources. In addition, the show will update viewers about the current whereabouts of all of the contestants. Burnett says the goal is to give some out-of-work and out-of-hope  individuals the motivation, energy, and momentum to move forward with their careers and their lives, even after they've left the show.
"Apprentice" contestants typically sleep only a handful of hours during the competition, but with a $250,000 job on the line, there's added desperation this season, the panel said. Usually it takes a couple of days before real personalities – and the inevitable bickering – start to show. But from the looks of this season's premiere, the hostility and competitiveness is in full swing from the opening moments.
Trump revealed that he and Mark Burnett disagree about some of the structure of the show: Trump insists that America (based on ratings) wants to see more board room and less time spent on the weekly tasks. Burnett, on the other hand, believes that without the task footage, there's not enough drama to the board room. After all these years, they're still working to reconfigure the show to give viewers more of what they want.
What They Said
"Everyone's getting something of the show, not just the winner."
– Donald Trump, Jr. says that this year's show provides new opportunities
"Everything in the decision-making of the show is Donald. Do you think Donald's going to listen to me?"
– Mark Burnett describes who's really in charge behind the scenes

"Omarosa's made her living as a villain."
– Donald Trump gives an example of someone who's achieved fame after leaving the show

"Right out of the gate you could see the hunger and the passion."
– Ivanka Trump believes this year's contestants are more driven than other years'

"I wish I knew [NBC chief Jeff] Zucker could be that generous."
– Erin Burnett jokes about the network's allowance of funds for weekly panoramic images taken by helicopter

What We Thought
Erin Burnett (no relation to Mark) ran a superb panel, keeping Trump's kids involved in spite of their being overshadowed by more famous and revered panelists. She not only asked good questions, but she directed them specifically to the parties who could answer those questions best.
We liked hearing about how much work goes into filming just one episode of the show. Believe it or not, there are 32 cameras in total, and they shoot 300 hours of footage for every hour that's aired. A production team stakes out an entire floor of Trump Tower, according to Erin Burnett.
There's a "task department" in charge of coming up with and planning the projects that the teams perform each week. Fans know these can range from dog grooming to flipping burgers to remodeling a room. We admire those with the creativity to brainstorm new and creative ideas year after year.
PANEL RULES!
Some audience behavior seems to repeat itself panel after panel. We'll be updating a running list of "PANEL RULES!" that will help ensure that you are not the dweeb of the Panel Nerds.
Panel Nerds don't have anyone to pick on from this engaged and informed audience. They served nine on-the-ball questions, each leading to intriguing responses and discussions. A job well done.
Have a tip we should know? tips@mediaite.com