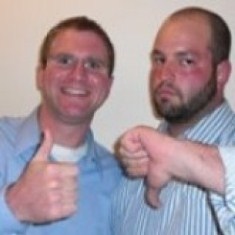 Who: Sarah Silverman, interviewed by Andy Borowitz
What: "Sarah Silverman in Conversation with Andy Borowitz"
Where: 92Y
When: November 20, 2013
Thumbs: Up
On her media tour ahead of her upcoming "We Are Miracles" HBO special release, Silverman swung by for a candid chat with Borowitz that touched on her fears, anxieties, regrets, and more. Throughout it all, Silverman found a way to bring the funny like only she can, but it was more an evening of insight; many people discovered for the first time who the real Sarah is and how much of a character she portrays on the stage.
This theme comes out in her "Miracles" performance and is an indication that perhaps we'll get to see more of the real Sarah down the line. If this is truly an indication of what's to come, not only will her fans be rewarded, it'll also force others to reconsider the woman as more than a source for crude jokes. Silverman freely acknowledges that she gave more of herself for this special than she has in the past, acknowledging, too, that when she performed she used to say the opposite of how she really felt. Borowitz was quick to point out that other comedians take on a different persona when they perform, most notably Stephen Colbert, and that we shouldn't be so quick to judge a person for what they say into the mike. Silverman credits Steve Martin, among others, for showing the world how to be a jerk and "cavalier," while still getting the laughs.
The duo covered many of Silverman's greatest hits and even discussed some of Silverman's less proud moments and shortcomings. During those discussions, Silverman repeatedly called herself "fragile" and revealed her sensitive side. She does say that she liked the freedom she had with her character to get away with more than she may not have otherwise. Still, she says that no topic should be off-limits for comedians because someone's take on even a controversial or taboo topic can be "illuminating."
What They Said
"I just lost interest in my own sentence."
– Sarah Silverman caught herself rambling, and made light of it, on one of several occasions during the evening
"The element of failure in the room was one of the things that made it funny."
– Andy Borowitz recalls a time he witnessed Dana Carvey flop in front of a puzzled audience, yet still made it work, comedically

"As a single woman, there are many people who feel comfortable attacking you."
– Sarah Silverman knows when to stand up for herself
"I don't think there is a lot of real outrage on the Internet."
– Andy Borowitz wonders what trolls are really after
"There's no high concept in it. It's just characters."
– Sarah Silverman describes her new HBO series

What We Thought
Rarely do you attend a panel and walk away feeling as though you've grown to learn more about what makes a famous person tick. That was definitely true for this event, as Silverman shared all kinds of things about herself, her life, and her opinions. It was refreshing. The first half of the night was some of the best back-and-forth we've ever seen on the stage. It stemmed from the chemistry these two exuded and used to play off of one another. It was all in good fun and wonderful to watch.
Silverman revealed that she no longer plays The Laugh Factory, a California standup staple, after seeing too many incidents take place there and command major national media attention. We commend Silverman for taking a stand on what she perceives to be more than a coincidence. That she filmed her "Miracles" special at a tiny club in Los Angeles says even more about how in touch she is with where she feels most comfortable and secure.
PANEL RULES
Some audience behavior seems to repeat itself panel after panel. We'll be updating a running list of "PANEL RULES!" that will help ensure that you are not the dweeb of the Panel Nerds.
Panel Nerds don't like…Unprepared Fans
Kudos to the panelists for taking so many questions, but we've never been so unimpressed by the selection of questions from the audience. Many people defaulted to just asking Silverman about process, favorite roles, and quoting lines from her standup. If that wasn't enough, though, one member of the crowd engaged directly with Silverman about her upcoming AMA on Reddit. Much of the audience didn't know what Reddit was, and Borowitz, after a few minutes of witnessing this uncomfortable exchange beside him, poked fun at the audience member for not actually asking a questions and just "wanting attention." For everyone's sake, particularly the seasoned guests, get ahold of yourselves, people.
Have a tip we should know? [email protected]
---