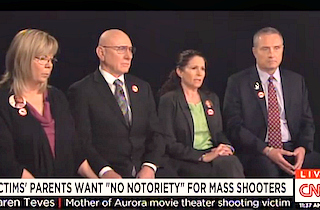 On Reliable Sources Sunday morning host Brian Stelter talked to parents of several Aurora shooting victims about their campaign to get media outlets to stop using the names of mass shooters, believing that the notoriety gained encourages more shootings.
"The quest for notoriety and infamy is a known, motivating factor for people that want to commit mass killings or copycats," Caren Teven said. "All we're asking is after the initial identification of a mass killer, set up the initial identification, and then throughout the article or newscast refer to them as the 'shooter' or 'defendant.' It's not that difficult."
The push comes ahead of the trial for shooter James Holmes, which is currently in jury selection. The judge has allowed a camera for the trial, which the Phillips family criticized in a recent op-ed.
"We were already victims, and re get re-victimized by seeing that over and over again," Sandy Phillips said.
Stelter asked if refusing to name them would set up a slippery slope. Tom Teves, who referred to Holmes as "that thing" throughout the segment, argued that said slope already exited, and intimated that news networks had a financial incentive for glorifying shooters.
"You don't name rape victims, you don't name children," Teves said. "Tell me the relevance of whether you put the thing's picture and name on television…other than you think it draws viewers and clicks and ratings. If we want this to stop — and I assume CNN wants it to stop — you could make an argument that from a revenue-generating perspective it's a big boom for you guys –"
"But that's a horrifying thing to say," Stelter said.
"But you could make that argument," Caren Teves replied. "We're asking for the media not to turn our children's deaths into a form of entertainment."
Watch the clip below, via CNN:
[Image via screengrab]
——
>> Follow Evan McMurry (@evanmcmurry) on Twitter
Have a tip we should know? tips@mediaite.com