Tearful Parents Bid Goodbye To Slain Daughter In CT: 'This World Is A Better Place' Because She Was In It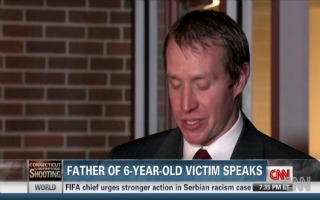 In a press conference Saturday night, Robbie Parker, the father of 6-year-old shooting victim Emilie Parker told reporters, "This world is a better place because she has been in it."
In an emotional speech, Parker also expressed sympathy for the family of the gunman who killed 27 children and adults at Sandy Hook Elementary School Friday. "I can't imagine how hard this experience must be for you," Parker said. "I want you to know that our family and our love and our support goes out to you as well."
Parker was among the few parents who stepped forward publicly to discuss his daughter's death. Many others have asked for privacy during this time of mourning. Parker wished that the tragedy would "not turn into something that defines us, but something that inspires us to be better, to be more compassionate and more humble people."
When he first received the phone call from his wife about the shooting at his daughter's school, Parker, a physician's assistant, was unable to leave Danbury Hospital, which had gone into lockdown as a precaution. He said initially he thought, "this has to be some sort of mistake," and when the lockdown was lifted, ran immediately to the firehouse near the school where parents were gathering.
He said of his daughter, "Emilie would be one of the first ones to be standing up and giving her love and support to all of those victims, because that is the type of person she is." She was "an exceptional artist and she always carried around her markers and pencils so she never missed an opportunity to draw a picture or make a card for someone." He said her "laughter was infectious" and that she would be missed greatly by her two younger sisters.
Friends of the family created the Emilie Parker Fund, as well as a corresponding Facebook page, and according to Parker, the outpouring of grief and support has overwhelmed them.
Parker said the healing process would take some time, adding "I don't know how to get through something like this, how to process something like this and get our lives going."
Watch the full clip below, via CNN:
>> Follow Anjali Sareen (@AnjaliSareen) On Twitter
Have a tip we should know? [email protected]