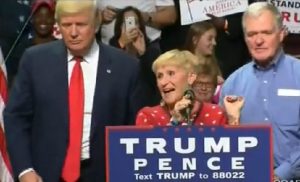 At a rally in Pennsylvania last night, Republican presidential nominee Donald Trump brought up the parents of a deceased Trump supporter. The mother of Riley Rone, who died in an auto accident earlier this year, used the appearance to urge people to vote for Trump.
Rone, who was only 19 when he died in a motorcycle accident on May 31st in New Jersey, volunteered for Trump and was a strong supporter of the real estate mogul. Shortly after his death, Trump tweeted out a letter that was sent to him asking if he could recognize Riley in some form.
Riley Rone was a great young man. We will miss him dearly. pic.twitter.com/R0tm44nMao

— Donald J. Trump (@realDonaldTrump) June 11, 2016
During last night's rally, Riley's mother Barbara Rone addressed the crowd after Trump asked her to "say a few words about our boy."
Highlighting Riley's obituary, Mrs. Rone explained why the GOP candidate was referenced in it.
"Mr. Trump was mentioned because Riley loved or loves Mr. Trump," Mrs. Rone stated. "His funeral was over 200 cars, he had very dedicated friends, there were signs, flags for Mr. Trump. Riley's grave marker has Mr. Trump name on it and the Statue of Liberty because he loves America."
Towards the end, she made a plea to other parents out there to vote for Trump.
"Now, all you mothers out there, I want you to put yourself in our shoes for one minute," Riley's mother said. "You fathers, too. I want you to please, please vote for Mr. Donald Trump in my son's honor."
Watch the clip above, via CSPAN.
[image via screengrab]
–
Follow Justin Baragona on Twitter: @justinbaragona
Have a tip we should know? tips@mediaite.com