Parents Tearfully Share Stories Of Their Slain Daughter: She Was A Ball Of Fire, 'Our Little CEO'
Parents Tearfully Share Stories Of Their Slain Daughter: She Was A Ball Of Fire...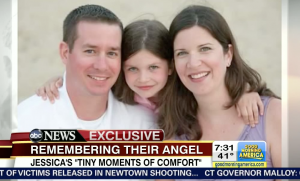 In an emotional and heartbreaking interview, Richard and Krista Rekos spoke to Good Morning America about their daughter Jessica, 6, who was among the victims of the school shooting in Newtown, Conn. Sharing memories of Jessica provides "tiny moments of comfort," Krista said.
She was a ball of fire, "our little CEO," Richard recalled. "She was the boss." He and his wife recalled getting the call on Friday morning, rushing to the school, and holding onto the hope that they would find her among the other students who were taken to the fire house.
After hearing the tragic news, Krista said they returned home and "got into her bed that she had just gotten out of." It's not real, she said, that "my little girl, so full of life, and who wants a horse so badly, and who is going get cowgirl boots for Christmas, isn't coming home."
She also shared a page from a journal of Jessica's, which includes a drawing and says, "I love you, Mama."
"It was like she knew we were going need something to help us get through this," Krista said. "That's just like what an amazing little girl she was."
The family also released a statement paying tribute to their daughter:
"Jessica loved everything about horses. She devoted her free time to watching horse movies, reading horse books, drawing horses, and writing stories about horses. We had promised her she could have her very own horse when she turned 10. She asked Santa for new cowgirl boots and a cowgirl hat. She was a creative, beautiful little girl who loved playing with her little brothers, Travis and Shane. She spent time writing in her journals, making up stories, and doing "research" on orca whales – one of her passions after seeing the movie Free Willy last year. She said her dream was to see a real orca. Thankfully her dream was realized in October when she went to SeaWorld.

Jessica was our first born. She started our family, and she was our rock. She had an answer for everything, she didn't miss a trick, and she outsmarted us every time. We called her our little CEO for the way she carefully thought out and planned everything. We can not imagine our life without her. We are mourning her loss, sharing our beautiful memories we have of her, and trying to help her brother Travis understand why he can't play with his best friend. We are devastated, and our hearts are with the other families who are grieving as we are."
Jessica's funeral is on Tuesday.
The segment below, via ABC. Not easy to watch.

Have a tip we should know? tips@mediaite.com