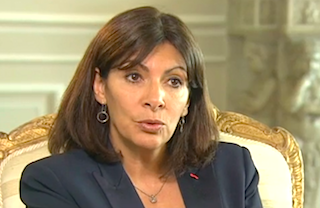 In a new interview with CNN International's Hala Gorani, Paris Mayor Anne Hidalgo said she's "still angry" with Fox News over its reports on her city's supposed Muslim "no-go zones" and the lawsuit against the network she vowed to pursue will be moving forward.
"It was a lie at a very serious time," Hidalgo said through a translator, referring to the days after the Charlie Hebdo shooting. "And some like Fox stigmatized a portion of the population and they wanted to show something that doesn't exist. So it's normal I'm angry. And I am still angry."
Responding to the Washington Post's Erik Wemple, who called the lawsuit "idiotic," Hidalgo said her suit is not "just for show," citing the economic implications that could arise if Americans take Fox's characterization to heart and become afraid of visiting Paris.
But while Hidalgo told CNN the lawsuit has been filed, Wemple reported Friday that Fox had not as of yet received any formal complaint from the city.
Back in January, when Hidalgo first brought up the plans to sue in an interview with CNN's Christiane Amanpour, Fox News EVP Michael Clemente said in a statement, "We empathize with the citizens of France as they go through a healing process and return to everyday life. However, we find the Mayor's comments regarding a lawsuit misplaced."
That same night, Fox News host Bill O'Reilly was on the case, telling his audience, "This is just an attention-getter, another playing to the left, that's what this is. Suit's going nowhere. It's ridiculous."
Watch video below, via CNN:
[Photo via screengrab]
— —
>> Follow Matt Wilstein (@TheMattWilstein) on Twitter
Have a tip we should know? tips@mediaite.com