Part 2 – Before She Was The Rachel Maddow: The Best Of The Maddow-Tucker Carlson Debates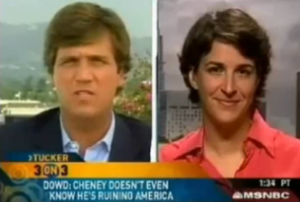 Watching the prim, polished Rachel Maddow show as it exists today– MSNBC's flagship– it's hard to recall the days Rachel Maddow was a radio host first and foremost, with some gigs on TV on the side. Her first regular stint on national television was on The Situation with Tucker Carlson— a news opinion program that preceded both Wolf Blitzer's The Situation Room and Jersey Shore's Mike "The Situation" Sorrentino, and eventually became simply Tucker, giving way to a series of programs before ceding the 9PM MSNBC spot to Maddow herself.
This series will take a look at some of the most exciting discussions/debates on that program. In this five-part series, we watch as a less experienced but still savvy Maddow plays the combative guest to host Tucker Carlson on everything from terrorism to social issues to the horserace election politics.
RELATED: Part 1 – Before She Was The Rachel Maddow: The Best Of The Maddow-Tucker Carlson Debates
In this installment, Carlson squares off with Maddow on not just the Democrats' chances to take back the House of Representatives in 2006 (which they did), but the slowly-evolving presidential race to succeed George W. Bush. Carlson tells Maddow in the clip that he can't believe the Democrats are trying to recruit Illinois Senator Barack Obama, a U.S. senator for only two years, to run for the highest office in the land. Maddow argues that his short tenure in Congress might actually be a benefit to his potential campaign, and the longer he serves in the Senate, "the less electable he becomes." Carlson runs down the list of potential Democratic candidates, including Chris Dodd and Russ Feingold, dismissing it as a "lame line-up" and the only reason Obama is being touted against Hillary Clinton is that the party thinks she's weak.
Maddow predicts that Clinton will not end up being the Democratic nominee, which Carlson immediately laughs at.
Watch the video below, courtesy of MSNBC:
Have a tip we should know? tips@mediaite.com
Josh Feldman - Senior Editor