Part 3 – Before She Was The Rachel Maddow: The Best Of The Maddow-Tucker Carlson Debates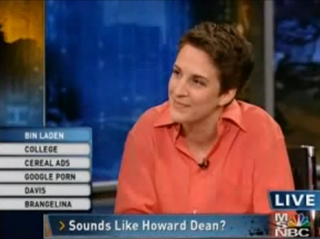 Watching the prim, polished Rachel Maddow show as it exists today– MSNBC's flagship– it's hard to recall the days Rachel Maddow was a radio host first and foremost, with some gigs on TV on the side. Her first regular stint on national television was on The Situation with Tucker Carlson– a news opinion program that preceded both Wolf Blitzer's The Situation Room and Jersey Shore's Mike "The Situation" Sorrentino, and eventually became simply Tucker, giving way to a series of programs before ceding the 9PM MSNBC spot to Maddow herself.
RELATED: Part 2 – Before She Was The Rachel Maddow: The Best Of The Maddow-Tucker Carlson Debates
This series will take a look at some of the most exciting discussions/debates on that program. In this five-part series, we watch as a less experienced but still savvy Maddow plays the combative guest to host Tucker Carlson on everything from terrorism to social issues to the horserace election politics.
In this installment of our ongoing series, the topic du jour is the latest Osama Bin Laden tape, in which Carlson finds a number of suspiciously Democratic-sounding talking points. Maddow is livid at the idea that Bin Laden's threat to attack America is somehow being used to attack the Democratic Party. The two are reviewing a previous segment on the matter from Scarborough Nation, where Carlson and Joe Scarborough made the point that the comments in the Bin Laden video were quite similar to those made by Democratic frontrunners for President (for 2008). "It blew my mind that that was your take on it," Maddow notes, to which Carlson asks, "isn't it uncanny?" He adds the caveat that he is "in no way comparing," but doesn't get through the sentence without Maddow exclaiming that this is ridiculous. "I literally expected him to say Hillary in 08!" Carlson joked, adding, "how does he get the NYT in his cave, is my question."
Maddow disputes the comparison, laughing at the idea that it isn't a moral one, and noting that "on MSNBC," a headline about Bin Laden threatening America somehow turns into "an occasion to pile on Ted Kennedy." "I'm actively angry that this is being turned into a political attack on Democrats," Maddow argued, to which Carlson, still smiling, joked, "it is an acknowledgment that Osama is stealing your best lines."
The segment on Bin Laden ends with Maddow and Carlson laughing as she shouts "I'm mad at you!" at him, which is a pretty good indication of the regular tone of the program's segments when they debated each other.
The segment via MSNBC below:

Have a tip we should know? tips@mediaite.com