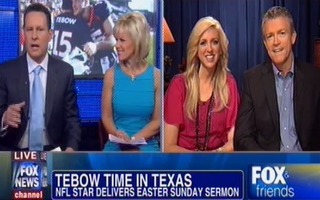 Former Colorado Broncos quarterback Tim Tebow delivered a sermon at Celebration Church in Georgetown, Texas on Easter Sunday, and Fox & Friends brought on that church's pastors, Joe and Lori Champion, to talk about the experience.
RELATED: Behold The Story Of Tim Tebow As Told In An Easter Passion Play
Co-Host Brian Kilmeade asked the Champions how it felt sharing a stage with Tebow on Easter Sunday. "I think it's exactly what we wanted to have happen," said Joe Champion. "We had people coming from all over, even out of state – one lady drove 17 hours from Indianapolis with her two daughters." Champion went on to praise Tebow for his ability to preach to a crowd that is familiar with the gospel.
Co-host Gretchen Carlson asked Lori Champion and asked her how this arrangement came about. "It's my understanding that he called you about a month ago and said he wanted to come to your church," asked Carlson.
"We're not really sure why our church," said Lori Champion. "We kind of asked him that before he went on stage and he said 'I don't know.' I guess it was a God thing."
Finally, Carlson asked the couple what they got out of the experience, to which they replied that they felt Tebow was a "great leader" on and off the stage.
"We have three boys and so they've all read the Tebow books – they got them for Christmas – so, what spoke to me as a mom was what a real and genuine and authentic testimony of Jesus Christ that he is," said Lori Champion.
"From the beginning, Tim said 'this is not about me. I don't want anything to draw attention away from the Easter message," said Joe Champion.
Watch the segment below via Fox News Channel:
Have a tip we should know? tips@mediaite.com