Pastor Dennis Terry Introduces Rick Santorum, Tells Non-Christians To 'Get Out' Of U.S.
Pastor Dennis Terry Introduces Santorum, Tells Non-Christians To 'Get Out' Of U.S.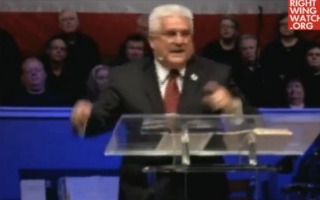 Preacher Dennis Terry of the Greenwell Springs Baptist Church introduced GOP presidential hopeful Rick Santorum at a campaign rally recently, as preachers are sometimes wont to do for Christian candidates attempting to appeal to a certain voting demographic.
Terry is tired, he told his audience, of not being able to say that the United States is a nation founded on Christian principles. He is tired of not being able to pray in public. "Listen to me," he continued. "If you don't love America and you don't like the way we do things, I have one thing to say… GET OUT!"
"We don't worship Buddha!" he yelled. "I said we don't worship Buddha, we don't worship Mohammed. We don't worship Allah. We worship God. We worship God's son Jesus Christ."
"The church needs to be the conscience of the nation," he added, before denouncing abortion and same-sex marriage. The solution to curbing these? "Put God back in our state house," he advised.
RELATED: Rick Santorum Regrets Saying JFK Speech On Church And State Made Him Want To 'Throw Up'
Santorum is seen in the crowd, clapping. So. Does clapping equal approval? Agreement? Why would a politician running for the role of president of the United States of America choose to attend an event overseen by someone who 1) publicly and proudly stats that he believes Christianity is the only acceptable belief system in the U.S. and 2) denounces the separation of church and state?
The question of the company one keeps — be it a Harvard professor or a charismatic preacher — continues to pop up, and will likely continue to as long as politicians keep steadfastly doing or saying or appearing to endorse (failing to formally denounce) practices and beliefs that may be at odds with the public image they're trying to project.
Santorum has run into trouble with this same issue before, most notably after having said that JFK's speech about separating his role as leader from his own Catholic faith — a religion the two men share — made him "want to throw up." He later expressed regret over the comment, adding that "I'm not a theocrat I'm not someone who has any evidence anywhere that I've ever imposed my values. I have values; I articulate those — as I encourage everybody else to do and respect everybody else's opinion and difference of opinion."
Have a look, via Right Wing Watch:
h/t Right Wing Watch via The Stranger
Have a tip we should know? tips@mediaite.com