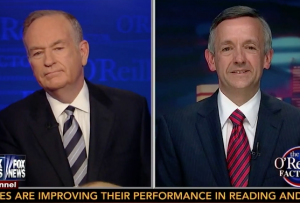 Bill O'Reilly decided Wednesday night that not enough of the Christian perspective in the War on Christmas™ has been showcased on his program (I'll give you a minute if that statement made you burst out laughing), and brought on Pastor Robert Jeffress to share his perspective. And for anyone to say there isn't a War on Christmas™, to Jeffress, you would have to be "extremely naïve or intentionally deceptive."
And it's not just a War on Christmas™ that's brewing, it is "part of a larger war on Christianity" all over the world. You know, except for the fact that the real persecution of Christians in Islamic nations is in no way comparable or connected to a few dozen minor skirmishes about some holiday displays. I mean, really.
O'Reilly asked, "Who do you think is behind the movement to diminish Christianity?"
Jeffress answered, "The kingdom of darkness, of Satan."
He also pointed to "judges who are perverting Christianity," declaring that "Satan can use anyone and everyone," and went after atheists trying to take down Christmas. Jeffress proudly boasted that Jesus did wonderful things for all of mankind, cited charity organizations, and then came up with this truly clever question.
"Can you name one atheistic organization that, in the name of their unbelief, has ever done anything comparable for the benefit for humanity?"
If what Jeffress meant was, "I defy any atheist group to say they have done anything as singularly spectacular as what Jesus did for mankind," then he's clearly right, though that would also mean no religious person has either.
But if he meant to suggest that atheists aren't as charitable as Christians, well, that's just incredibly dishonest. As I've detailed here before, there are plenty of secular groups that do charitable works.
Though Jeffress did say specifically "in the name of their unbelief," because, I guess, atheists just being decent human beings in general just doesn't count.
Watch the video below, via Fox News:
[photo via screengrab]
— —
Follow Josh Feldman on Twitter: @feldmaniac
Have a tip we should know? tips@mediaite.com
Josh Feldman - Senior Editor