'Pasty White Men Central': Brzezinski, MSNBC Guests Rip Erickson's 'Caveman' Comments About Women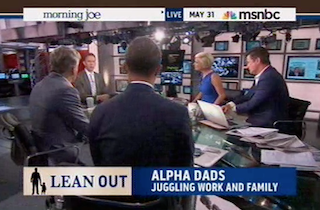 Fox's Erick Erickson caused a stir yesterday when he suggested it's "anti-science" not to believe that men should play a "dominant" role over women in the family — pegged of a new poll that showed 40 percent of American households have women as primary breadwinners. The Morning Joe crew was incredulous. Through laughs and ridicule, the panel took on the "caveman" mentality.
After everyone got the requisite "that wasn't SNL?" quip out of the way, Joe Scarborough contended that he'd be more than happy to spend time with his kids and have his wife be the primary source of income. "That was like caveman central," Mika Brzezinski jumped in, while Donny Deutsch attributed his professional success to his working with women.
Scarborough spoke of a generational divide and transition, quipping that his "good friend" Erickson "is 65 years old, so he's from a different" time.
"The problem with our society or social order or whatever else it was that we were so concerned about was them!" Brzezinski charged. "The cavemen! Who can't take it. They can't handle it!"
"That was like pasty, white men central," she added. "What is going on?"
Bloomberg Businessweek's Josh Green was then segued into discussing the magazine's story about "alpha dads." He argued, "I think it's harder for men in a way though. Because you have these cultural stereotypes of the stay-at-home dad as some hapless, doofy loser who needs help and is constantly getting notes from his wife."
Much of the panel argued there's a "middle ground." That they can do both. Scarborough offered Brzezinski as an example, illustrating how her and her husband both have demanding careers but share responsibilities at home and with their children.
Take a look, via MSNBC:

Have a tip we should know? tips@mediaite.com