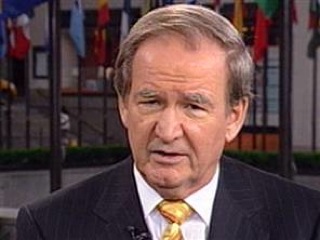 The future of Pat Buchanan at MSNBC is hanging in the balance, after a controversial book in which the conservative commentator made statements that were considered discriminatory by several groups. Over the weekend, MSNBC President Phil Griffin said that Buchanan was not allowed on the air indefinitely after the release of his latest book, and has not decided whether to allow the commentator to return.
Deadline's Ray Richmond first reported that Griffin was unhappy with Buchanan's book, and had not made a final decision on whether he would be back on MSNBC:
Griffin told me after the panel, "I don't think the ideas that [Buchanan] put forth [in the book] are appropriate for national dialogue on MSNBC. He won't be coming back during the book tour." Will Buchanan be back at all? "I have not made my decision," replied Griffin, who did say he will be tinkering with the network's format as the year goes on. Pat's a good guy. He didn't like [being removed from the air], but he understood."
The New York Times reported similar comments from Griffin, who added there that "Pat and I are going to meet soon and discuss it" and that "Pat is a good guy. Some of his ideas are alarming."
The book, Suicide of a Superpower, brought to MSNBC calls from several civil rights groups and the Anti-Defamation League to drop Buchanan for its incendiary racial and anti-Semitic remarks, among which are, according to the Times, claims that America is being damaged "ethnically, culturally, morally, politically" by the rise in minority populations and the lament that the "European and Christian core of our country is shrinking." Griffin described the ideas in the book as not being "really appropriate for national dialogue, much less the dialogue on MSNBC."
So the official position is that Buchanan's future is unclear. But its hard to imagine a scenario whereby Griffin, who runs the leading progressive news channel, would covertly take someone like Buchanan off the air, then question him publicly and then welcome him back. But who knows.
Have a tip we should know? tips@mediaite.com