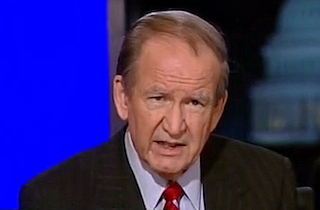 Fox News analyst Pat Buchanan spoke to Off the Record host Greta van Susteren Wednesday night and praised Vladimir Putin's op-ed in the New York Times as outstanding, pointing out that it was the Russian president, and not President Barack Obama, who was best speaking to American opinion on Syria.
"I read it twice," Buchanan said, "and, candidly, it was an outstanding piece. Vladimir Putin made a better case against U.S. strikes in Syria than the President of the United States did last night…He is reaching out to the anti-war community in the United States, the anti-interventionist community on Syria, which, as we know, recently, is probably around 60, 70, 80% of the American people. And he's doing it in an op-ed, and I think it's very effective."
"Frankly, in the last week, Vladimir Putin has looked like a statesman," Buchanan said, contrasting Putin's acumen with the "petty" behavior of Obama "stiffing" him at the G20.
"Which of the two is right now threatening a war that the American people don't want?" Buchanan asked. "Barack Obama and John Kerry…They're the ones to whom Putin is addressing this."
RELATED: White House Responds To Vladimir Putin's NY Times Op-Ed Via CNN's Jake Tapper
Buchanan disputed Putin's characterization of American exceptionalism, but agreed the notion had led the U.S. astray in the past decade.
"This 'exceptional nation' idea has taken us into war against Iraq, war in Afghanistan ten years, war in Libya," Buchanan said. "Now we are moving toward war in Syria. What good has it done for human rights and what good has it done for the United States of America? Putin is making a case here that an awful lot of American critics of the administration—conservative as well as liberal—have been making."
Watch the whole segment below, via Fox News:
[Image via screengrab]
——
>> Follow Evan McMurry (@evanmcmurry) on Twitter
Have a tip we should know? tips@mediaite.com