Pat Buchanan To Chris Matthews: Letting All Citizens Vote 'Isn't The Greatest Idea In The World'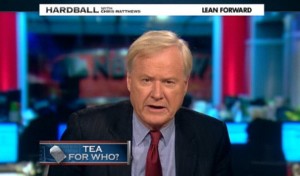 Tonight on Hardball, Chris Matthews brought up a thorny issue: exactly who should have the right to vote? A small group of conservatives, including Tea Party Nation president Judson Philips, think the answer to that question should be "property owners." And while MSNBC Correspondent and former presidential candidate Pat Buchanan told Matthews that he doesn't wholeheartedly agree with that group, he does think that the idea of universal franchise is badly flawed.
When asked to comment on Philips's statement—that restricting the vote to property owners "makes a lot of sense"—Buchanan replied that he "understand[s] the principle behind it," but thinks our nation is far beyond adhering to such a standard; after all, these days, even the wealthiest members of society rent property. At the same time, though, Buchanan told Matthews he thought that homeowners do tend to be "better citizens," since they have a more vested interest in the community. He also brought up the sad fact that most voters are incredibly ignorant about American government; in a recent Hardball poll, only 28 percent of respondents replied correctly when asked to name the Chief Justice of the Supreme Court—even though they only had five names to choose from.
"Your requirements are land ownership, sufficient knowledge of world events and history—where are we at?" asked Matthews jovially in response. "I thought you were anti-elitist." Even so, the host did agree that much of the electorate is woefully uninformed. For example: "I think Sarah Palin might have a serious problem with some basic information" about American history, he said. Hey, Hardball went almost six minutes without mentioning Sarah Palin! New record?
The video from MSNBC is below.
Have a tip we should know? tips@mediaite.com