Pat Robertson Advises Man Having Problems With Wife: 'You Could Become A Muslim And You Could Beat Her'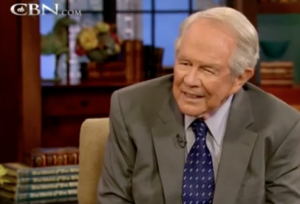 During The 700 Club's "Bring It On" segment, Pat Robertson sought to advise a man who sent in a question about how to approach marital problems with his wife. Robertson remarked that "he can't let her get away with this stuff," also noting that although we don't "condone wife-beating these days," perhaps the man could move to Saudi Arabia.
The man wrote that his wife, who "has become a real problem," "has no respect" for him "as the head of the house." He added, "She insults me and even went as far as stretching her hand to beat me…and she refuses to talk through our problems."
Robertson responded, "Well, you could become a Muslim, and you could beat her." The man's "gotta stand up to her, and he can't let her get away with this stuff. And you know…I don't think we condone wife-beating these days, but something's gotta be done to make her—"
"Not physically," co-host Terry Meeuwsen interjecting, wondering why the wife would be unwilling to talk through their problems. Robertson then veered into psychoanalysis, contending that if she's "rebellious" now, "chances are she was rebellious with her father." That "she doesn't want to submit to any authority. And she probably had temper tantrums as a kid." This woman, he said, is a 13-year-old in a 30-year-old's body.
The problem Robertson said, is that "she doesn't not understand authority," and growing up, "no one made her behave."
"You can't divorce her, according to the scripture," he said, offering parting words. "So I say, move to Saudi Arabia."
The segment below:

(H/T Gawker)
Have a tip we should know? tips@mediaite.com