Pat Robertson Threatens 'Full-Scale' Exposé Of Unnamed 'Nasty' Site That 'Deliberately Misconstrues' Him
Robertson Threatens 'Full-Scale' Exposé Of Unnamed 'Nasty' Site That 'Deliberately Misconstrues' Him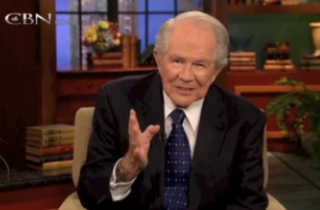 Televangelist Pat Robertson is not happy with an unnamed organization he believes "deliberately misconstrues" his words in an ongoing effort to "embarrass conservatives." In fact, the "right wing" evangelical is so upset by how often the website watches his show and posts clips from it that this morning he threatened a "full-scale exposé" of the group.
Which group is he talking about? Well, one in particular stands out. All signs point to Right Wing Watch, the video monitoring arm of the progressive advocacy group People for the American Way.
Robertson's most recent run-in with RWW came earlier this month after he gave advice to a woman struggling to forgive her husband's past adultery, no matter how hard she tried. The liberal site posted Robertson's remarks in full (as did we) and interpreted the advice as the televangelist suggesting she brush aside her husband's cheating, partially because "well, he's a man."
"Like it or not, males have a tendency to wander a little bit and what you want to do is make a home so wonderful that he doesn't want to wander," Robertson said during that clip, as part of his suggestion for the woman to "focus solely on the positive" aspects of her relationship, rather than dwell on the adultery of the past.
In response to the uproar the remarks received, Robertson's Christian Broadcasting Network released a statement saying that the his "intent was not to condone infidelity or to cast blame." They added: We regret any misunderstanding."
During his 700 Club reader email segment today, however, Robertson went full-blast against an organization he declined to name. "There are organizations, there is one in particular, which I will not name, but it is set out for one purpose: to embarrass those who are conservative on television. So they take my words and they twist them and distort them," he explained.
While lamenting that the website deliberately attempts to make him look bad, Robertson and his co-host boasted about his advice-giving skills by sharing a reader email praising his words, wishing she had the same counsel before her own divorce 15 years prior.
"I am not politically correct," he said. "In case you haven't learned: I tell it like it is."
He continued to tear into the organization that shall not be named, threatening to expose the group on his own show:
"This organization misconstrues deliberately, they want to do everything they can to make my words and they twist them. I will not identify the organization but one day we may have a full-scale exposé because it's a nasty group."
Watch the clip below, via an unnamed organization we shall not identify:
— —
>> Follow Andrew Kirell (@AndrewKirell) on Twitter
Have a tip we should know? tips@mediaite.com