Keith Olbermann Hits Back At Pat Sajak's Apology For Putting Olbermann On TV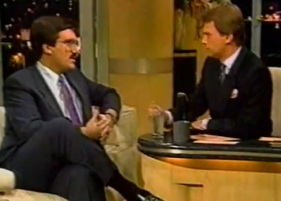 Pat Sajak is best known as the long-time host of the impossibly successful syndicated game show Wheel of Fortune. He is lesser known for hosting failed national late-night talk show that appeared on CBS in 1989 to 1990 in which he claims to have introduced the nation to an up-and-coming sportscaster named Keith Olbermann. Oh and for that last bit, he now apologizes for putting on the air the "bitter-sounding, hate-mongering name-caller he's become."
Mr. Sajak is known to have a rather clear right-of-center bent, and is in fact the External Director of conservative publishing house Eagle Publishing. Appearing on Ricochet.com. Mr. Sajak writes:
Keith was a sportscaster at the local CBS affiliate in Los Angeles at the same time I was doing a talk show for that network. I thought Keith was pretty funny on the air, and I suggested we have him come on the show and talk sports. This was the first of several appearances he made on the show, and he always did a nice job.

Keith tended to wear out his welcome at stations and networks, and he bounced around to several places before he found his niche at MSNBC. When he first went on the air there, he was actually quite entertaining. He was wry and amusing, and he looked at the news at a kind of cockeyed angle that I enjoyed.

I'm not sure how he morphed into the bitter-sounding, hate-mongering name-caller he's become, but I'm sorry he did. I liked the guy, and he was always a good guest. Maybe it's just show business and trying to find a place in it and building an audience, but I don't know. We were never friends away from the show, so I can't even guess what drives him.
Watch the video from the The Pat Sajak Show which appears to have come from January, the week preceding Super Bowl XXIII.
Update: Mr. Olbermann clarifies via his Twitter feed " As I said yesterday, I worked for CNN '81-84, had a TODAY piece done on me in '86, CBS Evening News piece in '88," then adding in response to Mediaite's own Tommy Christopher "But when they fired Pat for mailing in that talk show, they did interview me to succeed him, so THAT he introduced me to."
To Mr. Olbermann's point, in terms of current cultural relevance and influence, it does seem odd that a game show host would have the chutzpah to be critical of Mr. Olbermann.
Update #2 – Mr. Olbermann has released the following statement regarding Mr. Sajak's claim:
From Keith Olbermann:
Pat Sajak has made a claim picked up pretty widely – Hollywood Reporter, Daily News, etc – that he "introduced me to America."

He didn't.

I started on CNN the same year he started on "Wheel" (1981) and by the time I guested on his show in 1989, I'd already spent three years as a national sports correspondent for CNN, had a feature done on me by The Today Show (1986), been on the CBS Evening News (1988), and begun guest-hosting on ESPN (1989).

I think if he needs to apologize for anything it needs to be that talk show. When he was canceled, he was replaced by a crime-and-skin series called "Silk Stalkings," for God's sake. Obviously we guests must've really stunk.
Have a tip we should know? tips@mediaite.com