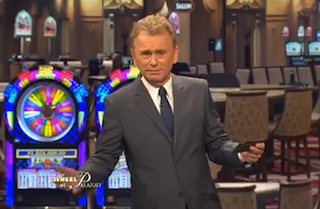 Wheel of Fortune host Pat Sajak found himself in an awkward position during Thursday evening's show when he assumed that if a man says he is engaged in must be to a woman.
"So you're engaged?" Sajak said to player T.K. Klotz, reading off his cards. "Some woman has agreed to marry you."
"Some gentleman," Klotz said, taking the air out of the room for a moment.
"Wrong again," Sajak scolded himself. "I had a 50-50 shot, T.K."
Someone who claims to be Klotz weighed in on the matter over at Deadspin, writing, "Pat actually apologized to me during commercial break. He may be outspoken about homosexuality but…"
The whole thing would come off as more of an honest mistake if Sajak didn't have a history of making deliberately controversial comments about homosexuality and other issues. Besides saying "global warming alarmists" are "patriotic racists" on Twitter last month, he also sent out this tweet in which he "came out" as straight:
Damn the career consequences! I'm hereby proclaiming my heterosexuality!

— Pat Sajak (@patsajak) April 18, 2014
That message does nothing if not belittle the actual career consequences some people face for coming out as gay.
Watch video below, via WABC:
[h/t Huffington Post]
[Photo via screengrab]
— —
>> Follow Matt Wilstein (@TheMattWilstein) on Twitter
Have a tip we should know? tips@mediaite.com