'Pattern Of Incompetence'? Fox Hosts Liken Boston To Benghazi, Slam Officials' 'Premature Assessment'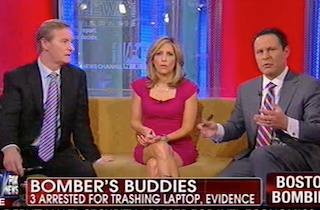 In light of authorities identifying three additional suspects in connection with the Boston Marathon bombing, the Fox & Friends crew questioned how the case has been handled. Drawing parallels to the Benghazi attack, the hosts pointed to possible "premature" assessment of the situation — given that, initially, officials said the Tsarnaev brothers acted alone.
Before getting to Benghazi, Brian Kilmeade revisited the argument he's been making for some time now, about why we didn't question Dzhokhar Tsarnaev for a longer period of time before reading his Miranda rights (he reportedly fell silent after being read his rights).
Secretary of Homeland Security Janet Napolitano "was quick to say that this was not part of any broader plot," Alisyn Camerota added, deeming it "interesting" since investigators appear to still be connecting the dots in the case. That seems like a "premature assessment," Camerota argued, citing Sen. Lindsey Graham's (R-SC) comment in which he draw a link between Boston and Benghazi ("Susan Rice all over again").
Steve Doocy agreed, pointing to the images of persons of interest in the Benghazi case that the FBI released recently. The hosts were further dismayed by White House Press Secretary Jay Carney response to a question about Benghazi, wherein he noted that the attack "happened a long time ago."
"It was not until they [the whistleblowers] showed up on television talking about, 'Hey, the administration isn't doing anything,' that apparently the administration was shamed into doing the right thing," Doocy charged.
The hosts collectively were outraged that we're just now getting into the Benghazi case, seven months after it occurred. And then there's Boston. Is there, the chyron questioned, a "pattern of incompetence?"
Take a look, via Fox News:

Have a tip we should know? tips@mediaite.com