Paul Krugman Blasts Media For Debate Reaction: 'Press Just Doesn't Know How To Handle Flat-Out Untruths'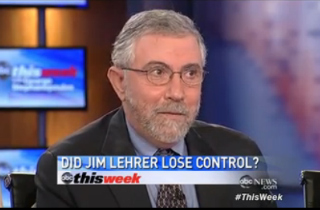 Appearing in a heated This Week roundtable discussion about this past Wednesday evening's first presidential debate, New York Times columnist Paul Krugman took a shot at the media for what he believes was a mishandling of the "untruths" told by GOP candidate Mitt Romney.
Unlike the rest of his co-panelists, Krugman was reluctant to blame President Obama's lackluster performance on any specific person, instead focusing on the factual inaccuracies in Romney's performance:
"I don't know whether to blame [moderator Jim] Lehrer or the president but it was kind of amazing because Romney was not only saying things that are not true, he was saying things that his own campaign had previously said weren't true," he said. "The one that got me was not about taxes but the thing about covering people with pre-existing conditions which his plan does not which he has said that before and his campaign has walked it back in the past and there he was right again saying, well, my plan covers pre-existing conditions which is to show contempt."
"You think it's the moderator's job," host George Stephanopoulos interrupted.
"No, contempt for the whole process. Contempt for us by thinking the news media will not cover on me as long as they say forcefully I won," Krugman explained.
Oh, so you're saying the press is against Obama now?" an incredulous Mary Matalin interjected.
"The press just doesn't know how to handle flat-out untruths," Krugman said much to the chagrin of Matalin, who rolled her eyes and sighed.
Co-panelist James Carville seemingly defended the press, noting that "President Obama was sitting right there. He could have confronted Governor Romney on any number of issues and drawn the distinction."
"Isn't our job, at least partially — never mind the quality of the theatrical performance — but to ask about, were there untruths spoken in that debate?" Krugman then asked. "And there were a lot."
"Then that was the president's job!" said Peggy Noonan.
Jonathan Karl then responded to Krugman, noting that "to be clear, President Obama was loose with facts."
"No, those were minor compared with Romney's," Krugman replied when confronted with specific errors made by Obama during the debate.
Watch below, via ABC:
— —
>> Follow Andrew Kirell (@AndrewKirell) on Twitter
Have a tip we should know? tips@mediaite.com