Paul Krugman Responds To Mary Matalin: 'I Guess Trying To Get The Facts Straight Makes Me A Polemicist'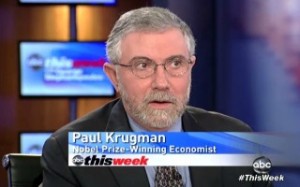 On Sunday, CNN contributor Mary Matalin blasted New York Times economist Paul Krugman to his face after Krugman took what Matalin felt was an undue shot at Republican lawmakers on ABC's This Week. On Monday, Krugman responded to Matalin's characterization of his objections to Republicans proposals to avoid the fiscal cliff as polemics.

RELATED: Mary Matalin Slams Paul Krugman: 'Are You An Economist Or A Polemicist?'
"How is the president supposed to negotiate with people who say, 'Here are my demands, by the way, I can't give you any specifics, just make me happy,'" Krugman said of GOP lawmakers on ABC's This Week.
Krugman concluded that Congressional Republicans are simply unable to provide "any specifics" as a means to get the nation's debt and deficit under control.
"That's completely mendacious," Matalin, also a guest on ABC's This Week, shot back at Krugman. "Are you an economist or a polemicist?"
In a statement provided to POLITICO's Dylan Byers, Krugman replied that he is merely pursuing the facts.
Byers repeated Matalin's question to Krugman; is he an economist or a polemicist?
The answer is both: I'm an economist, and when the economics justifies it, I don't mind delivering a polemic. Notice when she started yelling at me — it was when I was trying to correct her claim about $1.7 trillion in revenues from capping deductions. I know that number — it's here [Byers links to a post by Roberts Williams at the Tax Policy Center]. It's what you get from capping all deductions at $17,000 — which does two nasty things: it hits a lot of middle-class families, and it kills charitable contributions. And if you try to fix that, the number shrinks dramatically.

So I guess trying to get the facts straight makes me a polemicist.
Read the full post via POLITICO
> >Follow Noah Rothman (@Noah_C_Rothman) on Twitter
Have a tip we should know? tips@mediaite.com