Paul Ryan Blasts Dem Rep. For Claiming IRS Investigation Just 'Political Theater'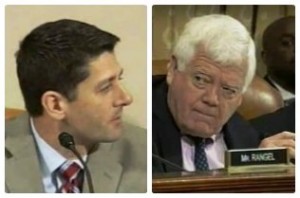 During a congressional hearing into the scandal surrounding the IRS's targeting of conservative groups, Rep. Jim McDermott (D-WA) claimed that the actions of some mid-level staffers in the revenue service was "stupid" but was not a conspiracy against conservatives. He implied that the groups seeking tax-exempt status should have rethought applying for that status in the first place. Rep. Paul Ryan (R-WI) blasted his Democratic colleague for suggesting that the groups that were targeted by the IRS invited that scrutiny.

"The mistake here was that the staff organizing the organizations used the names of the organizations rather than the work they do," McDermott declared, "and asked improper questions to figure that out."
"It's clearly wrong," he added. "It was inept, stupid, and a whole lot of other things."
RELATED: Darrell Issa Accuses Obama Administration: IRS Targeting 'Directly Ordered From Washington'
McDermott said that liberal groups were also targeted during the administration of President George W. Bush, but there was no outcry by Congressional Republicans at the time. "The Republican were looking for a conspiracy where there isn't one," he continued.
"Let's not forget, this happened under an IRS commissioner appointed by George Bush and was investigated by a Republican inspector general," McDermott asserted.
"I haven't heard a single word here about what questions you think we ought to be able to ask you about your tax-exempt request," he said. "Anything else, like the circus that's happening in the Oversight Committee or here, is simply political theater."
"I'm going to deviate from my original question in response to what I just heard," Ryan said to the laughs and applause of the hearing's attendees.
"So, you're to blame I guess is the message here," Ryan said summing his colleague's argument up to a conservative testifying about the targeting her group had received.
Watch the clip below via C-SPAN:
> >Follow Noah Rothman (@NoahCRothman) on Twitter
Have a tip we should know? tips@mediaite.com