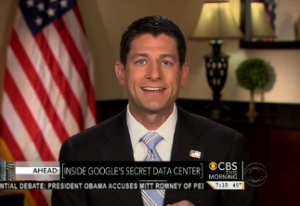 During last night's presidential debate, Mitt Romney, in a discussion about equal pay, uttered the phrase "binders full of women," referring to his recruitment effort when he was governor of Massachusetts. The phrase has stuck. It's been endlessly joked about and earned its own Tumblr. On Wednesday's CBS This Morning, Paul Ryan was asked to clarify.
"All he simply meant was that he went out of his way to try to recruit qualified women to serve in his administration when he was governor," Ryan said. "That's really what he was saying."
The comment in question came when Romney was asked to explain what he would do to address workplace inequalities, "specifically regarding females making only 72 percent of what their male counterparts earn." In his answer, Romney cited his cabinet recruiting during his time as governor.
"I had the chance to pull together a cabinet and all the applicants seemed to be men," Romney said, noting that he asked for "a concerted effort to go out and find women who had backgrounds that could be qualified to become members of our cabinet."
"I went to a number of women's groups and said, 'Can you help us find folks,' and they brought us whole binders full of women," Romney said.
Ryan emphasized that point during the interview. "By the way, he has an exceptional record of hiring women in very prominent positions in his administration, and that's the point he was making," he said.
He went on to add:
The other point is, this economy has been terrible for women. Poverty rates among women are at a 17-year high. We need jobs, we need economic growth. And among those who have been hit hardest in this economy are women.

So what he was pointing out to was that he went out of his way to find qualified women to serve in senior positions in his administration. And he did just that, and he had one of the most exceptional records of governors in the country.
Asked about Romney's position on the Lilly Ledbetter Fair Pay Act, Ryan noted that the act does not ensure equal pay, which has been addressed in previous legislation, but rather extends the statute of limitations for lawsuits. "Of course we support equal pay," Ryan added.
The remarks below, via CBS:

Have a tip we should know? tips@mediaite.com