Paul Ryan Delivers Powerful Speech To RNC, Hits Obama For Failing To Deliver The Presidency He Promised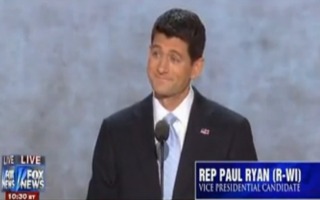 Wisconsin Rep. Paul Ryan delivered his much-anticipated speech to the Republican National Convention on Wednesday night where he formally accepted his party's nomination for the vice presidency.
"I accept the calling of my generation to give our children the America that was given to us, with opportunity for the young and security for the old," said Ryan. He praised Mitt Romney immediately, saying that the Republican presidential nominee's whole life has led up to this moment. "American needs a turnaround, and the man for the job is governor Mitt Romney."

"I have never seen opponents so silent about their record and so desperate to keep their power," Ryan said. "They've ran out of ideas. Their moment came and went. Fear and division is all they've got left."
Ryan drew laughs when he said that President Barack Obama's campaign was throwing away money by airing attack ads, "and he's pretty experienced at that."
Ryan introduced his family and became emotional when he introduced his mother, Betty. The emotions continued to run high as Ryan spoke of his father who passed away when he was 15-years-old.
Ryan spoke about his hometown in Wisconsin, where he said he still lives today. "The people of Wisconsin have been good to me. I've tried to live up to their trust. And now, I ask those hardworking men and women to join our cause and get this country working again," Ryan said to applause.
Ryan outlined the perilous state of the economy and how many Americans are hurting amid the stalled economic recovery:
Right now, 23 million men and women are struggling to find work. Twenty-three million people, unemployed or underemployed. Nearly one in six Americans is living in poverty. Millions of young Americans have graduated from college during the Obama presidency, ready to use their gifts and get moving in life. Half of them can't find the work they studied for, or any work at all.
Ryan turned to taking on President Obama's record – he took him on for breaking the promises he made in 2008, the stimulus and for his health care reform law.
"You would think that any president, whatever his party, would make job creation, and nothing else, his first order of economic business," Ryan said. "But this president didn't do that. Instead, we got a long, divisive, all-or-nothing attempt to put the federal government in charge of health care."
Ryan slammed Obama for taking funds out of Medicare to fund the Affordable Care Act, noting that Obama's "biggest, coldest power play of all in Obamacare came at the expense of the elderly."
He said that they intend to tackle the problem of Medicare's looming insolvency head on. "Our nation needs this debate, we want this debate and we will win this debate," said Ryan.
He spent much of the speech, not attacking Obama for failing fixing the economic mess he inherited, but for implementing programs which were never intended to address that crisis.
It all started off with stirring speeches, Greek columns, the thrill of something new. Now all that's left is a presidency adrift, surviving on slogans that already seem tired, grasping at a moment that has already passed.
Ryan praised Obama's 2008 campaign rhetoric which he called "serious talk from a what looked to be a serious reformer." But, today, "they have no answer to this simple reality: we need to stop spending money we don't have."
In a clean break from the Obama years, and frankly from the years before this president, we will keep federal spending at 20 percent of GDP, or less. That is enough. The choice is whether to put hard limits on economic growth, or hard limits on the size of government, and we choose to limit government.
Ryan closed by saying that he knew "the failures of one administration are not a mandate for a new administration." He said that the Romney/Ryan ticket would need to make their case to the American people. He promised that the coming campaign would make the choice in this election clear to all voters.
"We will not try to replace our founding principles, we will reapply our founding principles," said Ryan. "Whatever your political party, let's come together for the sake of our country. Join Mitt Romney and me. Let's give this effort everything we have. Let's see this through all the way. Let's get this done."
Watch part 1 of Ryan's speech below via Fox News Channel:
Watch part 2 of Ryan's speech below via Fox News Channel:
> >Follow Noah Rothman (@Noah_C_Rothman) on Twitter
Have a tip we should know? tips@mediaite.com