Paul Ryan Endorses On Fox & Friends: 'I Think We Need To Coalesce As Conservatives Around Mitt Romney'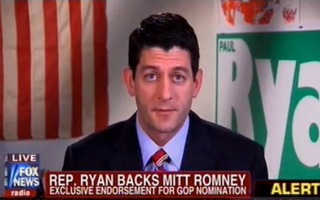 Rep. Paul Ryan (R-WI) appeared on Fox & Friends Friday to endorse former Massachusetts Gov. Mitt Romney as his choice to be the eventual Republican nominee.
"We vote on Tuesday here in Wisconsin; lots of my friends are asking me who we should vote for," said Ryan. "I have two criteria I am using to make my decision to vote in our primary Tuesday: Who is the best person to be president, who will make the best president? And who has the best chance of defeating Barack Obama? And, in my opinion, Mitt Romney is clearly that person."
"I am convinced that Mitt Romney has the skills, the tenacity, the principles, the courage and the integrity to do what it takes to get American back on track," Ryan continued.
Ryan said that the ongoing GOP primary has been good for the candidates, but believes it is time for the party to come together ahead of a tough general election. "That's why I think we need to coalesce as conservatives around Mitt Romney and focus on the big task at hand, which is defeating Barack Obama in the fall," he said.
Ryan said that he contacted former Pennsylvania Rick Santorum but had not had the chance to speak with him yet.
Romney is one of several high-profile Republicans that came out in support of Ryan's proposed budget this year, in stark contrast to a similar budget proposal last year which Republicans treated with much more caution. "I'm very supportive of the Ryan budget plan," Romney said Thursday. "I applaud it. It's an excellent piece of work and very much needed."
Ryan is one of a handful of Republicans regularly mentioned as potential vice presidential picks. Ryan's embrace of Romney days before the critical and competitive Wisconsin Republican primary may make Budget Committee chairman an even more attractive prospect for the vice presidency.
Watch the video below via Fox News Channel:
Have a tip we should know? tips@mediaite.com