Paul Ryan Gets Frustrated, Cuts Interview Short: 'You Trying To Stuff Words In People's Mouths?'
Paul Ryan Cuts Interview Short: 'You Trying To Stuff Words In People's Mouths?'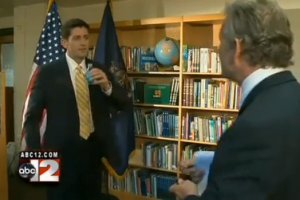 During an interview with ABC12 in Michigan, Paul Ryan grew frustrated with the repeated questions about gun laws and taxes — prompting him to cut short the interview altogether.
The "problems of civil society" should be what we're focused on, Ryan argued — and that, in turn, reduces crime.
"Does this country have a gun problem?" the interviewer asked.
"This country has a crime problem," Ryan replied, which prompted the follow-up, "Not a gun problem?"
"No, I mean if you take a look at the gun laws we have — I don't even think President Obama's proposing more gun laws," he responded.
Over some crosstalk between the two, Ryan then added that we have good laws but many of them aren't being properly enforced, which is an area of improvement.
"The best thing to help prevent violent crime in the inner cities is to bring opportunity in the inner cities," Ryan said. "Is to help teach people good discipline, good character. That is civil society. That is what charities and civic groups and churches do to help one another make sure that they can realize the value in one another."
"And you can do all that by cutting taxes?" the interviewer asked. "With a big tax cut?"
"Those are your words not mine," Ryan replied.
And there the interview ended, prompted by an aide (presumably?) off-screen, and Ryan removing his mic. To the interviewer, he remarked, "That was kinda strange, you trying to stuff words in people's mouths?"
The Romney spokesman Brendan Buck gave the following comment to BuzzFeed:
The reporter knew he was already well over the allotted time for the interview when he decided to ask a weird question relating gun violence to tax cuts. Ryan responded as anyone would in such a strange situation. When you do nearly 200 interviews in a couple months, eventually you're going to see a local reporter embarrass himself.
The clip below, via ABC:

(H/T BuzzFeed)
Have a tip we should know? tips@mediaite.com