Paul Ryan Hammers Ousted IRS Head Over 'Misleading' Remarks, Why Progressive Groups Were Not Targeted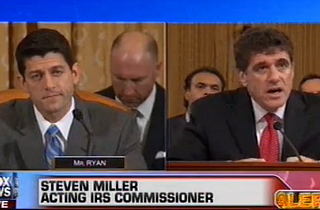 During today's hearing on the IRS political targeting scandal before the House Ways and Means Committee, Rep. Paul Ryan (R-WI) hammered recently-resigned acting IRS chief Steven Miller for "misleading" statements previously given to the committee. The former GOP vice presidential candidate also cornered Miller into conceding that progressive buzzwords in organization titles were not at all included among the tax agency's list of words to target for additional scrutiny.
"How can we conclude that you did not mislead this committee?" Ryan repeatedly asked Miller after explaining that the ousted IRS chief had previously said things contradictory to what he has put forth at today's hearings.
The two got a bit heated when Ryan interrupted Miller to "clarify" for him what exactly he was asking. Audible laughter is heard in the background as the congressman berates the IRS chief.
Ryan then moved on to the question of whether "progressive" terms were also included in the tax enforcement agency's list of key words to flag for additional tax-exempt scrutiny. The congressman read off a few organizations approved for 501(c)(4) tax-exempt status while including openly-progressive terminology in their names, asking, "If you were concerned about political activity, did you have targeting lists that included words like progressive and organizing in their names?"
Miller claimed that the IRS included "more than tea party cases" in its targeting, but Ryan shot back: "There were no progressive or organizing words that were used for targeting, that's correct?"
"That's correct," Miller replied. Ryan then ended his time, satisfied with having gotten the IRS chief to concede on that point.
Watch below, via Fox:
— —
>> Follow Andrew Kirell (@AndrewKirell) on Twitter
Have a tip we should know? tips@mediaite.com