Paul Ryan Has A Hard Time Explaining How GOP Will Replace Obamacare To George Stephanopoulos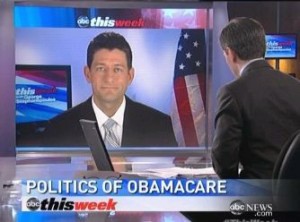 Republicans have been saying for months now that one of their biggest legislative priorities is to repeal and replace Obamacare, and the Supreme Court decision has only strengthened their resolve to do so. Republican leaders in the House and Senate were both grilled today on what their alternative to the health care law would actually be, and on ABC's This Week, it was Congressman Paul Ryan being pushed to explain what the Republican health care alternative is.
RELATED: Norah O'Donnell Hammers John Boehner: 'When You Repeal [Obamacare], What Are You Going To Replace It With?'
Ryan promised that if Republicans are victorious in the November elections, repealing the Affordable Care Act would be one of the party's top priorities. Stephanopoulos ran a clip of Mitt Romney's reaction to the Supreme Court ruling where he claimed that the law cuts $500 billion in Medicare, a claim Stephanopoulos noted was deemed false by several news organizations. But more importantly, Stephanopoulos said, Ryan's own budget proposal that Romney gave his support to has its own $500 billion Medicare cut. Ryan claimed under the current law, the money is being taken from Medicare "to spend on Obamacare," whereas his cut would extend the solvency of Medicare.
Stephanopoulos asked Ryan if this meant he flat-out rejects charges of hypocrisy. Ryan said the true hypocrisy was President Obama's for saying to Stephanopoulos three years ago that the health care mandate isn't a tax increase, and then it turns out to be one all along. Ryan bashed the president for being two-faced in selling the health care bill to the American people and getting it through the Supreme Court.
As for the contents of the law itself, Stephanopoulos noted that several of the law's provisions are quite popular with the American people, and asked Ryan exactly how the Republicans plan to deal with those issues while they're working to repeal the whole law.
"When you do that, will you also vote to preserve any of these programs or does everything go?"
Ryan said the Republicans will be working to get the entire law repealed this month, but said there are ways of covering things like preexisting conditions without the need for a "government takeover."
Watch the video below, courtesy of ABC:
Have a tip we should know? tips@mediaite.com
Josh Feldman - Senior Editor