Paul Ryan: Obama's Failure To Retrieve Snowden Shows Admin Growing 'More Incompetent By The Day'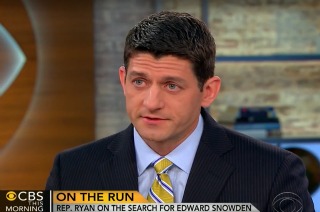 Rep. Paul Ryan (R-WI) savaged President Barack Obama and his White House during a Monday interview on CBS This Morning over his administration's failure to convince the nations allowing National Security Agency leaker Edward Snowden to evade justice in their territories to hand him over. Ryan said that the administration's failure to retrieve Snowden creates the impression that the White House is growing "more and more incompetent by the day."

Charlie Rose began by asking Ryan to weigh in on an assessment of the president's second term in POLITICO which noted the Obama presidency has entered a "dead zone." Rose asked if this condition was compounded by the disappearance of Snowden.
RELATED: Assange: 'Do Not See The Irony' In Snowden Advocating For Transparency From Russia, China
"It does, because it just reveals an administration that seems more and more incompetent by the day," Ryan said. "Once we've discovered that this person has stolen our secrets, has leaked them, you think we'd have a better job of following up with that with China and the other countries."
When asked what tools he would use or procedures he would follow to bring Snowden back from abroad, Ryan said he would lean on those nations that have extradition treaties with the United States to honor them.
"And if we're not able to convince our allies or other counties to actually help us with this, that doesn't speak very well to how we're being viewed in the world," Ryan continued. "That doesn't speak very well to our credibility."
"When you try to leverage our credibility and we are not successful, that does not help our image whatsoever," he concluded.
Watch the clip below via CBS:
> >Follow Noah Rothman (@NoahCRothman) on Twitter
Have a tip we should know? tips@mediaite.com