Ryan on Boehner's Attack on Tea Party: 'Keep Those Conversations Within the Family'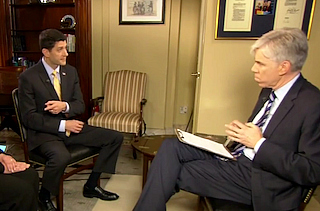 On Meet the Press Sunday morning, Representative Paul Ryan (R-WI) defended his compromise budget deal with Senator Patty Murray (D-WA) against criticisms from conservative senators like Senator Marco Rubio (R-FL), but also cautioned that House Speaker John Boehner (R-OH) should hold his fire against outside conservative groups, whom the speaker had strongly criticized earlier this week for attempting to appropriate Republican voters for their own pet causes.
"I think John just got his Irish up," Ryan said. "He was frustrated that these groups came out in opposition to our budget agreement before we'd reached a budget agreement. I was frustrated, too. But I think these are very important elements of our conservative family, and I would prefer to keep those conversations within the family."
"I think these taxpayer groups are indispensable," Ryan continued. "We sometimes have a difference of opinions on tactics. We all believe the same thing with respect to our ultimate goal."
RELATED: Brit Hume: Boehner Finally 'Strong Enough' to Take On Tea Party, Now McConnell Can't
Host David Gregory also asked if Rubio's criticism of the bill as "un-American" was a sign the Florida legislator was eyeing a presidential run.
"I'm not gonna go into what Marco's rationale is," Ryan said. "I know what I think is the right thing to do: getting a budget agreement that reduces the deficit without raising taxes and prevents two government shutdowns in 2014."
Watch the full clip below, via NBC News:
[Image via screengrab]
——
>> Follow Evan McMurry (@evanmcmurry) on Twitter
Have a tip we should know? [email protected]