Paul Ryan On Morning Joe: 'We're Kind Of Used To Verbal Tantrums' From Obama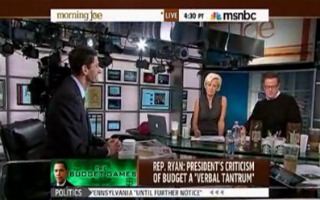 Rep. Paul Ryan (R-WI) appeared on MSNBC's Morning Joe this morning where he said President Obama has a tendency to engage in "verbal tantrums" and he expects to see more similar behavior as the general election heats up.
RELATED: Paul Ryan Admits He 'Misspoke' When He Said Military Leaders Did Not Support Obama's Pentagon Budget
Ryan was introduced with an April 3 clip of President Obama calling the most recent Ryan budget a "Trojan Horse" and "thinly veiled social Darwinism. "It is an attempt to impose a radical vision on our country," said Obama. "It is antithetical to our entire history as a land of opportunity and upward mobility for anyone who is willing to work for it."
Ryan was asked to respond to the president calling, and he opted to defer but not before calling Obama out on his rhetoric. "We're kind of used to these verbal tantrums from the president, unfortunately," Ryan said.

"That was a verbal tantrum," asked Mika Brzezinski incredulously.
"We have a debt crisis coming," Ryan responded. "When you're talking about increasing spending at a slower rate than the president is proposing – you hear this kind of over-the-top rhetoric – I really I think it's more of a rhetorical broadside to distract from the fact that the president isn't proposing solutions."
"We propose to increase annual federal spending from $3.6 trillion a year to $4.9 trillion over the ten year period, instead of the president's $5.5 trillion," elaborated Ryan. "Apparently the difference of that makes us social Darwinists? Because we're saying don't increase spending as fast as he is, but bring it back to more a sustainable level."
Watch the segment below via MSNBC:
Have a tip we should know? tips@mediaite.com