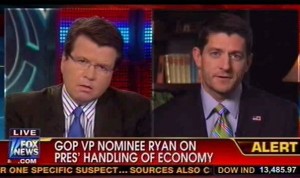 Republican vice presidential nominee Paul Ryan appeared on Fox News Channel with Neil Cavuto in a wide ranging interview that dealt with Mitt Romney's recent lackluster polling, recently revised GDP growth and threats to global security abroad. He detailed the number of reasons why he believes President Barack Obama's handling of foreign affairs has resulted in a more dangerous world. Ryan said that a Romney administration would lead to a more peaceful world through the projection of strength.

Cavuto asked if Ryan has been feeling the pressure coming from grassroots conservatives and GOP donors who have been clamoring to see the vice presidential nominee speaking out and making the case for the Republican ticket.
"I do so many TV interviews, Neil," said Ryan. He detailed the various local interviews he has done since joining the ticket.
Cavuto interrupted him, asking about recent polling which shows the popularity of the Romney/Ryan ticket slipping in recent weeks. "Are you troubled by the Wisconsin polls," Cavuto asked.
"No, I'm really not," said Ryan. "I don't actually believe in the validity of that particular poll."
"We might be thinking this is part of Paul Ryan unleashed," said Cavuto. "But, you've always been unleashed and now we're paying attention."
"I've been saying the same thing for years," said Ryan.
Ryan took aim at the revised second quarter GDP growth forecast which was marked down from 1.7 percent to 1.3 percent and increasing amount of people leaving the labor market. He said that the nation needs the Romney/Ryan ticket's pro-growth message to get out of the country's "malaise."
Cavuto asked Ryan for his insights on foreign policy, noting that Israeli Prime Minister Benjamin Netanyahu detailed a firm red line on Thursday which would trigger a strike against Iran's nuclear enrichment facilities. Cavuto asked what a Romney/Ryan administration's proscriptions would be, short of war, to prevent Iran from achieving a nuclear breakout.
"The best way to prevent war is to be resolved," said Ryan. "It is peace through strength and not to gut the military – which is what the president is doing."
Ryan said that new sanctions in place on Iran since the summer should have been put in place three years ago, but the 111th Congress was resistant to the president's position. Ryan said that President Barack Obama's threats of military action against Iran lack credibility.
"I fear that the result of the Obama foreign policy is to project weakness, complicity, moral equivocation abroad," said Ryan. "The Romney foreign policy will be a peace through strength foreign policy. We will speak with clarity for freedom, for individual rights, for women's rights, for religious rights, for freedom of speech – and we will support those democracy movements. We will support those yearning for Democracy. And we will not gut our military."
Watch the interview below via Fox News Channel:
> >Follow Noah Rothman (@Noah_C_Rothman) on Twitter
Have a tip we should know? [email protected]