Paul Ryan Responds To Congress' 10% Approval Rating: Blame Senate For Not Passing Legislation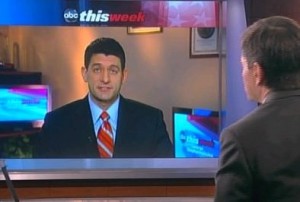 Congressman Paul Ryan appeared on This Week today, and he responded to a recent poll brought up by George Stephanopoulos that the approval rating of Congress is currently at 10 percent, worse than Nixon's worst day during Watergate. Ryan's response to everyone who is dissatisfied with Washington is simple: the Republican House has been working tirelessly to get legislation passed, but the Senate keeps stonewalling everything and preventing anything from getting accomplished.
RELATED: Mike Huckabee On Congressional Approval Ratings Slipping To 5%: 'Just Barely Above A Pedophile'
Stephanopoulos asked Ryan if he "accept[s] responsibility" for Congress' low approval ratings, and how the legislature can improve its standing in the eyes of the people. Ryan joked that there's nowhere to go but up. (Though let's not discount the possibility we haven't reached the absolute peak of awful partisan behavior yet.) However, he did want to make sure the American public understands the distinction between the two houses of Congress, and how effective each one has been.
"People will realize there's a difference between the House and the Senate. The House is controlled by Republicans. Last year we passed the budget to save and strengthen Medicare and Social Security to pay off our debt to grow our economy. We passed 30 bills aimed at growing the economy that are sitting in the Senate. We've passed four budget process reform bills to strengthen the way we account for taxpayer money. The Senate has done nothing."
RELATED: Chris Wallace Grills Speaker Boehner On 'Do-Nothing Congress': 'One Of Least Productive Ever'
Ryan also pointed out that the Senate has not officially passed a budget in years, and not only is it required by law to do so, but Ryan said it's the right thing to do in such perilous economic times.
Watch the video below, courtesy of ABC:
Have a tip we should know? tips@mediaite.com
Josh Feldman - Senior Editor