Paul Ryan: SCOTUS 'Raised The Stakes Of This Election,' Gave Americans Last Chance To Repeal Obamacare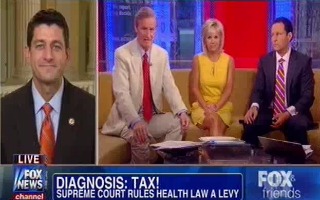 Chairman of the House Budget Committee Rep. Paul Ryan (R-WI) appeared on Fox & Friends on Friday in the wake of the controversial ruling by the Supreme Court to allow President Barack Obama's health care reform law to stand as a tax. Ryan said the Supreme Court gave the American people one last chance to repeal the health care law – and that will be in November.

RELATED: Paul Ryan Being Vetted For VP
"It's going to hit everyone, isn't it," asked co-host Steve Doocy.
"Absolutely," said Ryan. "There are 21 taxes in this bill, 12 of which hit people making less than $250,000 per year. That in and of itself is a violation of the President's promise not to tax people making less than $250,000."
Ryan said that the way the President and Congressional Democrats sold this bill has been proven false by the Supreme Court ruling. "I agree with the dissenting opinion that they rewrote this law calling it a tax," said Ryan.
"We have a law that we have one more chance to repeal, and that's this November election," Ryan continued. "That's basically what the Supreme Court did; they raised the stakes of this election. We have one more chance – and that's basically what they said. The people of this country are going to be the final arbiters of this."
Co-host Brian Kilmeade asked Ryan what he thought about former Massachusetts Gov. Mitt Romney advocating for a similar mandate as governor but railing against it as the Republican's presidential candidate.
"This is a state's rights issue," Ryan replied. "Mitt Romney has been very clear that the federal government does not have the power – through the Commerce Clause – to mandate such behavior. The Supreme Court upheld that notion, so what they did is they put a fence around what the government can do to make you do something."
Ryan said that the Supreme Court upheld the idea that the government can compel behavior by imposing taxes to incent or dissuade citizens from doing something.
Finally, co-host Gretchen Carlson asked Ryan if he thought it was even possible for the Internal Revenue Service to police this new, sweeping tax increase. "Won't the cost really be passed along to all the rest of the tax payers," Carlson asked?
Ryan agreed and laid out precisely why he thinks the law if fully implemented would be problematic:
They're going to have to hire thousands of new IRS agents to police this – to make people comply with this tax.

Number two, a lot of healthy people are going to say, 'you know what? It just makes more sense to pay this tax and not do anything than buy the insurance.' Sicker people are going to buy the insurance making everybody's premiums – everybody's health care premiums are going to go up as a result of this. That's very clear.

Number three, what's ironic about this ruling, with the Medicaid ruling – where they are saying states don't have to implement these new Medicaid rules, more people as a consequence of that are going to go into Obamacare. So you're going to see a bigger increase in the cost. Millions of people who would have otherwise gone into Medicaid are going to go into Obamacare—which costs a whole lot more money. So, this is going to blow a hole through the deficit even more than we initially thought.
Watch Ryan's appearance via Fox News Channel:
> >Follow Noah Rothman (@Noah_C_Rothman) on Twitter
Have a tip we should know? tips@mediaite.com