Paul Ryan Slams The Democrats For Removal Of 'God' And Jerusalem From Democratic Platform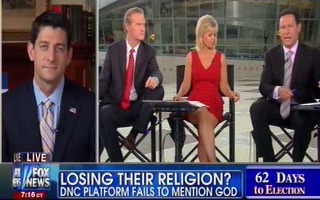 Republican Vice Presidential candidate Paul Ryan appeared on Fox & Friends on Wednesday to rebut charges made by Democrats about the veracity of claims he made in his acceptance speech before the GOP convention last week. Ryan also weighed in on the the Democratic party's platform which has removed the word "God" and omitted any support for Jerusalem as the capital of Israel. He said that it was a disappointment that the Democrats had opted to create conflict over the issue of Israel where there once was agreement on issues like Jerusalem, Hamas and the right of return.

"While the Democrats did not take the high road, they turned you and Mitt Romney into punching bags here at the DNC night one," said Steve Doocy.
"Well, this is what you expect when you have a president who cannot run on his record," said Ryan. "They don't have a record that they can run on, so hope and change has become attack and blame, smear and fear. That's the kind of campaign they're going to run."
Brian Kilmeade asked Ryan to respond to an introductory video aired at the DNC which touted the fact that the only thing all Americans belong to together is the government.
"The government works for us, not the other way around," said Ryan. "This in perfect keeping with President Obama's philosophy of a government centered society – of a government driven economy." Ryan said the video was a window into a hypothetical second term for Obama.
Noting that President Obama graded his first term as "incomplete," Doocy asked Ryan if he thought voters would accept this self-assessment. Ryan said that he thought most Americans would prefer to see the president touting results rather than a grade of incomplete.
"Incomplete means, I want to keep taking the country in the direction that I've taken it," said Ryan. He went on to outline the Romney plan for economic growth as a means of reversing President Obama's policies.
Gretchen Carlson asked Ryan to weigh in with his thoughts on his colleague Rep. Chris Van Hollen (D-MD) who, among others, charged that the Republican vice presidential nominee's acceptance speech was marred by factual inaccuracies.
"I stand behind everything that was in my speech," said Ryan. "The problem is the facts as they are today are not good for the president and his reelection prospects so they have to go to fear and smear, attack and blame."
"They're way off base," said Ryan. He addressed claims that some have made that he accused Obama of shutting down a Wisconsin General Motors factory, which he says he did not say and is not true. What he did say was that the Obama broke a promise to reopen that factory under his administration.
After the break, Ryan was asked for his thoughts on the Democrats removing the word "God" from their party platform. "I think it's rather peculiar," said Ryan. "It's not in keeping with our founding documents and our founding vision."
Finally, Kilmeade said that the Democrats had removed several pillars of American diplomacy towards Israel and the Palestinians, including Jerusalem as Israel's capital and the policy of isolating Hamas. He asked Ryan if he thought this was going to be a point of contention for the rest of the campaign and how it would impact the American Jewish vote.
"This is tragic," said Ryan. "Jerusalem is the capital of Israel."
"This is one of the few issues where the Republican party and the Democratic party agreed," Ryan continued. "Our two party platforms were emphatic about Jerusalem being the capital of Israel, the issues surrounding right of return and Hamas. And for the Obama administration to remove this language from the Democratic party platform drives a wedge into one of the few issues that our two parties actually agreed on."
Watch part one of Ryan's interview via Fox News Channel:
Watch part one of Ryan's interview via Fox News Channel:
> >Follow Noah Rothman (@Noah_C_Rothman) on Twitter
Have a tip we should know? tips@mediaite.com