Paul Ryan's Booing Shows How Out Of Step AARP Leaders Are From Their Members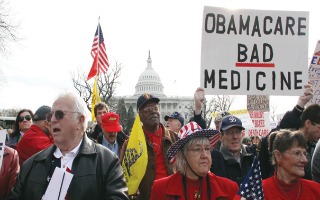 Addressing a convention held by the American Association of Retired Persons on Friday, Republican presidential candidate Paul Ryan was booed when he promised to repeal President Barack Obama's health care reform law. He received even more raucous boos when he proceeded to explain the reasons why the law was harmful to the economy and the stability of entitlement programs like Medicare and Medicaid. In showing their support for the Affordable Care Act, however, the audience showed just how out of step AARP's leadership has drifted away from the opinions of their members.

RELATED: Paul Ryan Booed By AARP Crowd For Promising To Repeal 'Obamacare'
A CNN/ORC poll from June 28 – July 1, just after the Affordable Care Act's individual mandate provision was upheld by the Supreme Court as a tax, showed that older Americans were the most hostile to health care reform. Americans aged 55 – 64 favored the repeal of all provision of the ACA by 55 to 42 percent. Those aged 65 or older were hostile to health care reform by similar margins – 54 to 41 percent.
A Quinnipiac poll from July 1 – 8 showed that 56 percent of Americans aged 55 and older viewed the Affordable Care Act as a tax increase compared to 33 percent who did not. Unless one presumes that these respondents are favorable to a tax hike, those are pretty resoundingly negative reviews of the ACA from seniors.
But the AARP membership and AARP activists are clearly two different things. What this booing incident proves more than anything is that the room Ryan addressed on Friday was primarily composed of individuals with a minority point of view on the health care reform law.
> >Follow Noah Rothman (@Noah_C_Rothman) on Twitter
Have a tip we should know? tips@mediaite.com