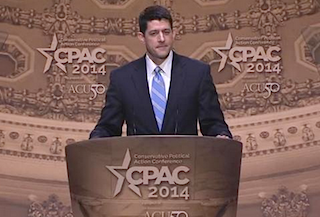 Remember yesterday at CPAC when Rep. Paul Ryan (R-WI) told that devastating story about a young boy who said he no longer wanted free, government-provided school lunch because that meant he didn't have "someone who cared for him?" And how that meant Democrats want poor Americans to have "full stomachs and an empty soul?" Well, it turns out none of that was true.

Washington Post fact-checker Glenn Kessler delved into Ryan's CPAC story last night, ultimately giving it his highest rating of four Pinocchios.
While Ryan recounted the story as told to him by Eloise Anderson, Secretary of the Wisconsin Department of Children and Families, upon investigation Kessler discovered she had lifted it from the 2011 book An Invisible Thread
by Laura Schroff, who has worked with a program called No Kid Hungry that is in favor of federal programs that help kids eat for free. Anderson took the story out of context, changing facts to make it fit a narrative that says the government should not be providing school lunches
Kessler quotes the section below from Schroff's book that closely resembles Ryan's story, but concerns an 11-year-old homeless boy refusing handouts from a stranger rather than a public school child saying no to government-provided lunch.
"Look, Maurice, I don't want you out there hungry on the nights I don't see you, so this is what we can do. I can either give you some money for the week–and you'll have to be really careful about how you spend it–or when you come over on Monday night we can go to the supermarket and I can buy all the things you like to eat and make you lunch for the week. I'll leave it with the doormen, and you can pick it up on the way to school."

Maurice looked at me and asked me a question.

"If you make me lunch," he said, "will you put it in a brown paper bag?"

I didn't really understand the question. "Do you want it in a brown paper bag?" I asked. "Or how would you prefer it?"

"Miss Laura," he said, "I don't want your money. I want my lunch in a brown paper bag."

"Okay, sure. But why do you want it in a bag?"

"Because when I see kids come to school with their lunch in a paper bag, that means someone cares about them. Miss Laura, can I please have my lunch in a paper bag?"
A spokesperson for Eloise Anderson told Kessler that the secretary "misspoke" and had actually seen an interview on TV with the real Maurice and did not speak to him herself as she had said during a congressional hearing on the War on Poverty that Ryan attended.
"The burden always falls on the speaker and we believe politicians need to check the facts in any prepared remarks," Kessler writes before awarding the four Pinocchios to both Anderson and Ryan. "In this case, apparently, the story was too good to check."
Ryan himself took to Facebook Thursday evening to express his "regret" for "failing to verify the original source of the story." He then links to a National Review article that quotes the story without indicating it was false.
Watch video of Ryan telling the story below:
[photo via screengrab]
— —
>> Follow Matt Wilstein (@TheMattWilstein) on Twitter
Have a tip we should know? tips@mediaite.com