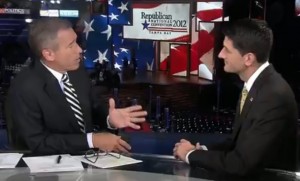 Republican vice-presidential candidate Rep. Paul Ryan (R-WI) has been getting so much ink for being an exceptionally prolific liar that it was inevitable the media would miss a big one, but he snuck out a doozy on Thursday that deserves some kind of an award. NBC News' Brian Williams confronted Ryan about the Republican Party Platform's abortion plank, which contains no exceptions for rape, incest, or the life of the mother. Ryan's response was literally unbelievable.
"Are you prepared to leave this gathering and own the fact that the platform of this party allows a woman who has been raped no exception but to carry that child to term?" Williams asked.
"Well, I think the platform is– is silent on that particular issue," Rep. Ryan replied. "Mitt Romney has a position on this. The president of the United States sets the policy. And Mitt Romney's position is that there are exceptions for rape, incest, and life of the mother."
"There's no exception in the platform," Williams astutely, correctly pointed out.
"Well, I think the platform's silent either one way or the other on that," Ryan repeated. "The platform – of which I think is a great document. I'm proud of the platform – it's something that was produced by the delegates, and the president of the United States sets policy on this issue. And Mitt Romney's policy is well known."
For the life of me, I'm trying to cut Brian Williams some slack for not turning to Ryan and saying "Pardon me, but how the eff can you be silent about an exception? An exception is, by definition, something you have to say out loud in order for it to exist. That's like saying 'This pizza isn't plain, it's just silent on the issue of toppings,' or 'I'm not naked, I'm just invisible on the issue of clothing.'"
To be fair, Ryan isn't the only person to make this stunning claim, but it's news because if the media keeps doing this horrible a job, he will be a heartbeat away from the presidency, and while Mitt Romney somehow gets credit for holding an unabridged Kama Sutra's worth of positions on this issue, Paul Ryan's position is crystal clear: whether you bought the ticket or not, you take the ride.
It's also news because it creates an entirely new category of legal and linguistic loophole, the silent (and invisible) exception, one which is presumed to exist unless it's lack of existence is specifically enumerated. The Republican platform also doesn't say if there's an exception for Mildred Throckmorton. Does Mildred, and every other woman in the United States, have to call the RNC to ask if there's an exception for them? Are there silent, invisible exceptions to other laws?
The extent to which journalists take post-honesty politics for granted is disturbing, but with Paul Ryan blazing trails in the form, they've got to stop letting go of Ryan's lies, and start going the distance.
Have a tip we should know? [email protected]