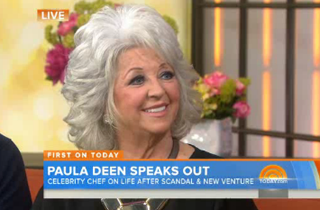 Over a year after she lost her shows and a handful of lucrative sponsorship deals for some racist comments and dressing black people up as plantation slaves, Paula Deen is staging a comeback. By "staging," we mean "trying to convince people she was the true victim," and by "comeback," we mean "making a documentary about her life in the past year."
"We hope to have it out the first of the year and tell everybody the true story of what really happened," Deen told the AP. "It was a painful year for me. It was a hurtful year when I found myself being labeled for something I was not."
And, according to Deen, she has learned contrition: "I learned the power of words, how they have the ability to hurt and once you say certain words you can't un-ring it, not even 30 years later."
For those who aren't attuned to the celebrity chef world: In June of 2013, the southern celebrity chef lost most of her empire due to a leaked deposition, in which Deen, fending off a lawsuit from a worker alleging racial discrimination, admitted to making unsavory jokes about minorities, publicly wishing that she could dress her black workers as antebellum-era "slaves", and using the n-word casually. The fallout resulted in the Food Network, her publishers, and many of her corporate sponsors severing ties with her, mostly due to Deen's inability to conduct an interview defending herself: she famously skipped out on a TODAY Show interview at the last minute, and released three weird apology videos hours later.
She also went on the Today Show this morning to promote her network, and as our sister site The Braiser recapped it, she seemed very, very, very, sorry:
My words hurt people. They disappointed people. And frankly, I disappointed myself, and for that I'm so sorry. I'm so sorry for the hurt that I caused people, because it went deep. It went deep … people lost their jobs. It went into corporate America. I'm here to make people happy, not to bring sadness.
Speaking of corporate America, the untitled documentary will be released in January and will only be available for subscribers to the Paula Deen Network, a website full of Deen-related recipes and lifestyle shows that costs $9.99/month to access.
Her Today appearance below, via NBC:
Visit NBCNews.com for breaking news, world news, and news about the economy
[ABC News]
[Image via screenshot/The TODAY Show]
>> Follow Tina Nguyen (@Tina_Nguyen) on Twitter
Have a tip we should know? tips@mediaite.com