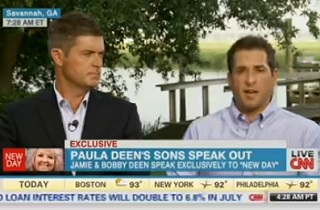 The attempt to rehabilitate embattled celebrity chef Paula Deen's reputation continued Tuesday morning on CNN's New Day, as co-anchor Chris Cuomo interviewed Jamie Deen and Bobby Deen about the troubles facing their mom. The two men talked about their non-racist upbringing, and gave, as an example, the lesson they were taught by the struggles of baseball legend Hank Aaron.
Cuomo began by asking Jamie and Bobby "What do you say to people who believe that your mother is a racist?"
"That's simply not true," Bobby replied, pointing out that "Our mother was under oath, asked in a deposition if she, to pore over her entire life and admit whether or not she had ever heard or used this word, and it broke her heart to have to answer truthfully, and say yes that they had, but the important thing is for people to know that is not her heart."
"It is certainly not the home that we were raised in," he continued. "We were raised in a family with love and of faith, and a house where God lived, and neither one of our parents ever taught us to be bigoted towards any other person for any reason, and this is so saddening to me because our mother is one of the most compassionate, good-hearted, empathetic people that you'd ever meet and these accusations are very hurtful to her and it's very sad and frankly I'm disgusted by the entire thing, because it began as extortion, and it's become character assassination, and our mother is not the picture of this being painted of her."
Jamie jumped in to explain that "when I was a young man in 1975, Henry Aaron was my hero, in 1974 he broke Babe Ruth's home run record by hitting 715 home runs. Before I had my tonsils taken out, I was 7 years old and really nervous, and my parents gave me Hank Aaron pajamas, and my mom and dad told the story of the challenges the Hammer faced in pursuit of his record. They told me he's a man of character. This is a lesson I've carried throughout my life, of inclusion, and to treat everyone fairly and by their character and own merit. Under no circumstances should you ever judge anybody for any other reason."
Cuomo's overly-broad question aside, I don't think the knock on Paula Deen is that she's "a racist," at least not in the actively hateful, hooded klansman sense of the word, but rather, that she is clueless about race in the way that many white people, especially southerners, are. It would be a simple thing to sneer at Jamie Deen's anecdote as the typical invocation of "one of the good ones" who just happens to be a professional athlete, one of the few paths to success that was available to black people in Hank Aaron's day, and beyond. That sense of frustration was captured by rap pioneer Grandmaster Melle Mel when he rapped, on New York, New York, "Just play ball or be an entertainer, 'cause niggas like me can't read too well."
Aside from the stereotypical aspects of the anecdote, though, is the very real chasm between the Deens' self-image about race, and the reality. Paula Deen was able to internalize, to some degree, the struggle of Hank Aaron in pursuit of Babe Ruth's home run record, which included heaps of verbal abuse and death threats, yet remained blind to the struggles of the men who worked in that plantation-themed restaurant that she was so enamored with. She was eventually able to muster regret for breaking the blisters on the hands of a little black girl in 1957, but held on to the delusion that the black people who took care of her as a child were really like members of her family.
The film The Help dispelled that notion handily, but also provided an example of the self-congratulation that helps to fuel it. The ostensible heroine of the film, played by Emma Stone, is really just writing a book about things that should have been obvious, like the fact that members of the family aren't forced to do their business in a dedicated outhouse. In much the same way, the Deen boys, without malice, seek credit for their parents because they didn't teach their kids to be bigoted.
It is that attitude which permeates the wide swath of white people who don't think they're racists, but also resent the "word policing" and "political correctness" that they see as Deen's chief obstacle to continued success. Treating others equally, avoiding outright bigotry, those are generosities, proffered in the interest of balming the hurt feelings of others, not the minimum requirements of a civilized people, in response to legitimate grievances. We used to drop the n-word constantly, and now we don't. What more do you people want?
I don't know what Paula Deen taught her kids, but it's clear that Paula Deen never learned to let the suffering of others encroach on the comforting notions she holds about her own life. She thinks her black friend finds it charming that she jokes about him standing in front of a black background, or that the South is somehow less racist because black people and white people have been facts of each other's lives for so long. I'm sure it seems that way, but just like northerners who think they've earned a 'Hood Pass™ (Bill Maher comes to mind),  things like the Heritage Not Hate brand of Southern nostalgia are tolerated, not appreciated.
Paula Deen does seem like a very nice lady, a charismatic screen presence, and a well-intentioned soul, so it's not surprising that those close to her would accept the price of an occasional eye-roller in order to be friends with her, especially given the pervasiveness of the sentiment. If you live in the South, and you decide it's worth the headache to battle the tide of ingrained privilege, why on Earth would you start with Paula Deen?
By the same token, though, it does seem unfair for Paula Deen to be crucified for sins that so many of us are guilty of, but her defenders' insistence that this is nothing but oversensitivity makes it necessary. In the clumsy court of public opinion, there's no way for Paula Deen to be forgiven and to have a productive discussion about the issues her story raises. There needs to be a way for people to understand that giving your kid some Hank Aaron jammies doesn't mean you get to pine for the good old days of plantation waiters in white coats.
There's a Hank Aaron anecdote that illustrates this story well. In 1999, the Atlanta braves met the New York Yankees in the World Series, and before game two, there was a ceremony honoring the Team of the Century, an unbelievable roster of Cooperstown greats that included the likes of Willie Mays, Ted Williams, and of course, Hank Aaron, gathered on a field that could barely contain their greatness. On that day, in Atlanta, when honoring the greatest sports figure in the city's history, the crowd gave a thunderous, sustained standing ovation… to Pete Rose. After all that struggle, those death threats, after bringing the greatest sports record of all time to Atlanta, Aaron was upstaged by a traitor to the game, and to the very fabric of American life.
That crowd didn't do that because they hated Hank Aaron, or even because they didn't like him, but because despite having been thrown together as they were, Hank Aaron wasn't, as it turned out, a member of the family, not the way Pete Rose was. Not for nothing, but Rose also upstaged the great Willie Mays, who was called a "hot dog" or a "showboat" for losing his cap as he miraculously chased down fly balls, behavior similar to that which earned Rose the nickname "Charlie Hustle."
None of that makes you a klansman, exactly, but there is a price to pay for that kind of blinkered existence, where snazzy uniforms blot out the blaze of inequality, and slavery is just an afterthought to a banner of regional pride, and that price is that you will be tolerated by people who get it, until you aren't.
Have a tip we should know? tips@mediaite.com