Tim Pawlenty Makes Campaign Official: May Not Be A BMW, But 'A Good Solid Buick'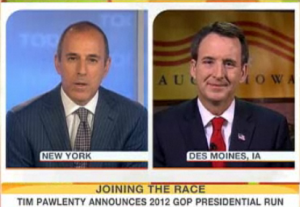 Former Governor Tim Pawlenty today makes it official that he is running for President and seeking the Republican nomination. Despite appearing on several morning news shows and launching a new campaign video, the official announcement might not be lighting the political world on fire either because most people (Pawlenty included) already thought it was official, or maybe because, as Matt Lauer suggests, Pawlenty's lack of charisma might be a serious hurdle for his campaign?
Pawlenty admits:
"We're not going to be the money champion in the race to start with though my friend Mitt Romney will be the front-runner in that regard. But we're going to have enough money to run a competitive and successful campaign. It may not be the BMW or Mercedes campaign, but it will be a good solid Buick and maybe even trending towards a Cadillac and that will be enough for us to be competitive and win."
And when Lauer wondered whether Pawlenty had enough charisma to compete with Obama, Pawlenty quickly responded that he's not a comedian and not competing to be entertainer-in-chief. Instead, he suggested, "President Obama unfortunately doesn't have the courage to look the American people in the eye and tell them the tough truth that things we're going to need to do to get spending under control."
To keep the car metaphor going, at least it seems like Pawlenty is not trying to be used car salesman and trying to sell the voters on an image of something he's not. Pawlenty is proud to be the serious alternative, and it will be up to Republican voters to decide if this no-frills car is the one they want to be driving in the race.
Watch the clip from NBC below:

Have a tip we should know? tips@mediaite.com