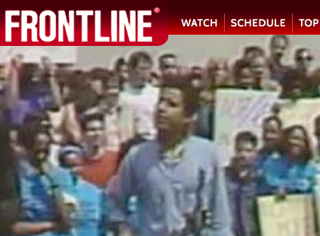 The news cycle took a radical shift this morning away from birth control and Republicans and towards racial issues and President Obama with the release of videos showing President Obama praising Professor Derrick Bell at a protest, widely considered to be the father of critical race theory. The possession of the video has already been a point of contention, as Buzzfeed released a clip of the video before Breitbart.com did– and now, PBS notes that the video appeared in a Frontline special four years ago.
RELATED: Watch President Obama At A Campus Protest At Harvard In 1991
Summarizing the controversy as it stands, writer Andrew Golis notes that the video might've looked a little familiar to PBS viewers, and with reason:
But there's nothing new about the clip or Obama's role in the controversy at Harvard Law School. In 2008, as a part of our quadrennial election special The Choice 2008, FRONTLINE ran the same footage of the speech as a part of an exploration of Obama's time at Harvard Law School, where he graduated in 1991. It's been online at our site and on YouTube since then.
Given the controversy, PBS pulled the full archived video that they could find. It is unclear whether it is the same one that the Breitbart team is expected to debut with Sean Hannity tonight, but it is clearly the same event. Golis notes that it appears all the footage available was edited in 1990, or it is at least the likeliest scenario, though it is possible more footage exists.
Update: in the subsequent hours since the footage exclusively aired on Hannity was released– without which it was difficult to make any assessment on the contrast between that footage and the PBS footage– Breitbart.com's Dana Loesch notes, via Charles Johnson, that the PBS footage available "showed footage of the protest but dubbed over critical portions of Obama's speech in which he endorsed Bell. A selectively edited clip released by Buzzfeed yesterday included the relevant audio but cut out the footage of Obama embracing Bell." With the footage from last night now in the public eye, it is clear that the hug is missing from the original form of the video PBS released last night, which shifts the debate from whether the footage was out there or not to whether the clearly missing footage from the original is sufficient to make a damning argument against the mainstream media for having excluded it– particularly given the comments of Professor Ogletree that he had deliberately hidden the footage in 2008 during a conference shortly after President Obama won the election.
Below is the clip from PBS in full. How does it compare the the footage released elsewhere so far? Leave your comments below:
Watch Obama Speaks at Harvard Law in '90 on PBS. See more from FRONTLINE.
Have a tip we should know? tips@mediaite.com