ABC Panel Previews 'Tough And Maybe Even Brutal Campaign' Awaiting Obama And Romney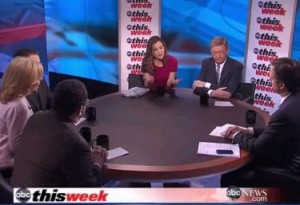 Now that it seems like Mitt Romney will be the inevitable Republican presidential nominee, the media has subtly but noticeably shifted from covering this as a primary election to covering it as a general election. So was the case when the panel on ABC's This Week today started talking about a potential fight brewing between Romney and President Obama over any number of issues you could name, including the recently-proposed House Republican budget.
RELATED: Bret Baier Grills Jay Carney: 'Senate Democrats Have Not Passed Budget Resolution In 1,070 Days. Why?'
Jake Tapper asked George Will if the Obama team could successfully tie Romney to the budget and make the connection stick, but Will noted that Romney has decided to embrace the budget all on his own, which he considers surprising for the "risk-averse" candidate. Will went down a whole littany of Obama's achievements, like the health care bill and the stimulus, that he won't be able to successfully run on this year.
Chrystia Freeland considered it a positive that both Romney and Obama are focusing on the budget, because it allows the American people to understand the stark choice between the two political parties when it comes to economic matters. David Chalian, the Washington bureau chief for Yahoo! News, predicted the entirety of the general election will just strip away any sense of positivity at all, instead just embracing a huge negative campaign from both sides.
Peggy Noonan was, somehow, less optimistic than Chalian.
"[This] is going to be a tough and maybe even brutal campaign. There's, we were talking in the green room about, something feels funny this year, something feels unsatisfying, but also, sort of negative, I think, is an obvious word… first of all, I wasn't aware that Mr. Romney has started his campaign, but boy, it is obvious that Mr. Obama has. He was tough, he was stark, he was dividing and labeling. Normally at this point, a candidate for the presidency, an incumbent candidate, will take a more benign, embracing tone. There was none of that. It was stark dividing, us versus them."
RELATED: John McCain Calls 2012 Campaign The 'Nastiest I Have Ever Seen'
And on the subject of the Supreme Court possibly overturning the health care law, or even just the insurance mandate, Michael Eric Dyson pointed out that Romney is tied to that same sort of health care as well, so any kind of repeal on the court's part may reflect badly on Romney too. He also accused Romney of showing "no sensitivity" to women and poor people during the course of the campaign.
Watch the video below, courtesy of ABC:
Have a tip we should know? tips@mediaite.com
Josh Feldman - Senior Editor