Peggy Noonan: Romney Will Win Despite Running 'Unfocused' And 'Joyless' Campaign Until Recently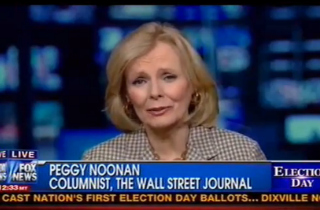 Appearing on Fox News' America Live this afternoon, former conservative columnist Peggy Noonan said that Mitt Romney will win the 2012 presidential election, despite running what she described as a relatively "unfocused" and "joyless" campaign up until recently.
The former Reagan speechwriter told host Megyn Kelly that she believes that "the Republican base, its many constituent parts, has, in the past 10 days or few weeks, started to come together again and they are going to come out" and vote for Romney in droves.
She added that, despite once being a vocal critic of his campaign, she believes Romney has seemingly caught his stride as of recent:
I felt the campaign was unfocused, that it was relatively joyless, that it wasn't speaking to the big issues of the time, that it just hadn't come together. Yet I must say the past week or so, even as we have all been distracted by the storm and we have been distracted by the polls, I look at the Romney campaign and I see these wonderful rallies where people are genuinely excited.
She went on to praise Romney for taking the route of campaigning on the fact that "I'm not going to spend any time blaming my predecessor. I'm just going to move on. I'm going to get in there and do my work."
Despite her assessment of the campaign as "joyless" up until only recently, Noonan told Kelly she believes "the dynamics are on the Republican side … but, oddly enough, in a too-close-to-call, I put my money on Romney.
Watch below, via Fox News:

— —
>>
Follow Andrew Kirell (@AndrewKirell) on Twitter
Have a tip we should know? tips@mediaite.com