Peggy Noonan Weighs In On Democratic Thinking About Paul Ryan: 'Kill Him Quick'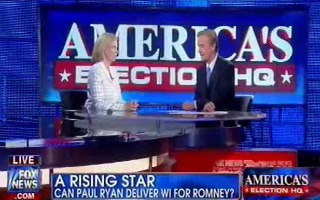 Wall Street Journal columnist and former speechwriter for President Ronald Reagan, Peggy Noonan, appeared on Fox & Friends on Monday to weigh in with her thoughts on the selection of Rep. Paul Ryan (R-WI) to join Mitt Romney on the Republican presidential ticket. Noonan said that Democrats have a window of about 10 days to make Ryan toxic to voters and they will want to define him early. If they fail to do that, Democrats may never again have the opportunity.

RELATED: Obama 'Welcomes' Paul Ryan To Race, Deeming Him 'Ideological Leader Of The Republicans In Congress'
"He comes with a great big target on his back, and that's Medicare," said Steve Doocy. He noted that the Romney team will have to come out fast and try to define Ryan to the public before Democrats can.
"Here is what I think Democrats are thinking," said Noonan. "Paul Ryan – young, very bright, seriously respected in Washington. Steve, that's an unusual thing. Media folks in Washington have all known this fellow for about 15 years – they all respect him, whether they agree or not."
"This is a potentially powerful fellow. So, what are the Democrats going thinking, they're thinking: kill him quick," said Noonan. She went on to outline the attacks on Ryan which would focus on his proposals to reform entitlements.
Noonan outlined how she thinks Republicans can deflect those attacks, but she said they will have to act fast. Otherwise, Democrats may be able to define Ryan's proposals for late deciding voters before Republicans have the chance.
Watch the segment below via Fox News Channel:
> >Follow Noah Rothman (@Noah_C_Rothman) on Twitter
Have a tip we should know? tips@mediaite.com