Pelosi Dismisses Democratic Support for GOP Obamacare 'Fix': Vote Was 'Political'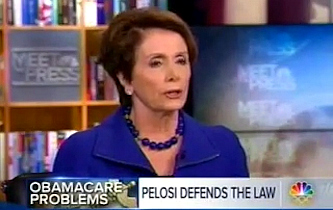 House Minority Leader Nancy Pelosi (D-CA) appeared on NBC's Meet the Press Sunday morning and dismissed as "political" a vote earlier in the week in which thirty-nine Democrats voted for a Republican change to the Affordable Care Act, arguing the tally was roughly equivalent to previous Obamacare-related votes, and showed no sign of defection.
"Thirty-nine voted for this resolution the other day," Pelosi said, referring to Representative Fred Upton's (R-MI) bill allowing customers to maintain cancelled health insurance polices. "The number has been in the thirties when it was to agree with them with the mandate for businesses, the mandate for individuals. So this is approximately the same number."
"The rollout of the website?" she continued. "That's terrible. But the fact is, that will be fixed…What the Republicans did on Friday—that was not a fix."
Host David Gregory pressed her on whether the vote was indicative of "Democratic frustration" on the part of members up for reelection in vulnerable districts. "Are you and others going to go campaign on Obamacare in swing districts around this country, and if so, what's the message going to be?" he asked.
"The experience in states where it is working, in Kentucky, California, the rest where we have our own state marketplace, it's working very well," Pelosi replied. "I have full confidence, as do my members, however they voted on this—this was political, they responded politically."
Watch the full clip below, via NBC News:
[Image via screengrab]
——
>> Follow Evan McMurry (@evanmcmurry) on Twitter
Have a tip we should know? tips@mediaite.com