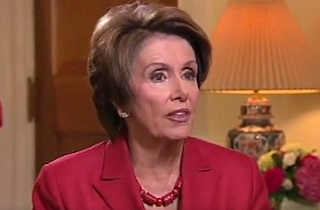 House Minority Leader Nancy Pelosi appeared on State of the Union Sunday morning to discuss the looming budget showdown, and told host Candy Crowley that the House GOP, which just passed a continuing resolution that did not fund ObamaCare, were legislative arsonists intent not on cutting government but crippling it.
"I call them legislative arsonists," Pelosi said. "They're there to burn down what we should be building up in terms of investments and education and scientific research, and all that it is that makes our country great and competitive. I don't paint them all with the same brush. I certainly don't paint the Speaker with that brush. But there's enough of them in the caucus to shut down government—that will be a victory for them."
Pelosi stressed that the continuing resolution was intended to create a government shutdown, not defund ObamaCare.
"They want to shut down the government," Pelosi said. "The effect of putting Affordable Care Act on the bill is to shut down government. They know that. They know that has no prospect of prevailing."
"None of us of comes here to have more government than we need," Pelosi said. "I was making the distinction between those who say, 'How much government do we need?' to those who say, 'We don't need any government,' the anti-government ideology is making a mess of what goes on in Congress now."
Watch the full clip below, via CNN:
[Image via screengrab]
——
>> Follow Evan McMurry (@evanmcmurry) on Twitter
Have a tip we should know? tips@mediaite.com